Carolyn Jewett running for re-election for District Court Judge
Posted May 3, 2022 at 7:36 pm by Jeff Arnim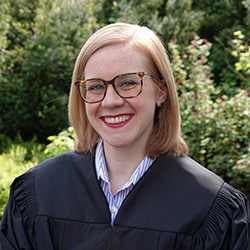 Incum­bent San Juan Coun­ty Dis­trict Court Judge Car­olyn Jew­ett has announced her inten­tion to run for re-election.
"Dur­ing my first term, I gained a lot of expe­ri­ence fig­ur­ing out what 'access to jus­tice' real­ly means," said Jew­ett in her can­di­da­cy announce­ment. "The COVID-19 pan­dem­ic turned our judi­cial sys­tem on its head and forced us all to adapt. I have been hon­ored to work side by side with our oth­er coun­ty depart­ments, as well as col­lab­o­rat­ing with judges across the state at all court lev­els, to ensure our com­mu­ni­ty has mean­ing­ful access to the courts despite emer­gency conditions."
Jew­ett is a first-term judge of the Dis­trict Court, which is the low­er court in San Juan Coun­ty. It has juris­dic­tion over mis­de­meanor crimes, small claims, infrac­tions, name change peti­tions, pro­tec­tion order peti­tions, and civ­il law­suits under $100,000.
"Despite the chal­lenges we still face, the pan­dem­ic has giv­en courts oppor­tu­ni­ties for change and inno­va­tion statewide, and we want to keep that momen­tum going," Jew­ett said. "It is crit­i­cal that we keep work­ing togeth­er to pro­vide fair, impar­tial admin­is­tra­tion of the law. I look for­ward to con­tin­u­ing this work as your Dis­trict Court Judge."
Dis­trict Court Judge is one of eight posi­tions up for a vote in the Nov. 8 gen­er­al elec­tion. The Coun­ty Coun­cil seat for Dis­trict 3 (Lopez and Shaw), Asses­sor, Audi­tor, Clerk, Pros­e­cut­ing Attor­ney, Sher­iff, and Trea­sur­er are also open in 2022. The pri­ma­ry elec­tion for any posi­tion with three or more can­di­dates takes place Aug. 2.
You can support the San Juan Update by doing business with our loyal advertisers, and by making a one-time contribution or a recurring donation.