Sweater weather
Posted May 2, 2022 at 7:30 pm by Kristen Arnim
With aver­age tem­per­a­tures more than ten degrees below nor­mal, it has been an unsea­son­ably cool April. And if you've been lay­er­ing on wool sweaters, you're not alone. Cady, the lamb, has been too.
It was shear­ing day when we vis­it­ed Oak Knoll Farm and the barn was noisy and bustling with humans, sheep, a guardian lla­ma, and a ded­i­cat­ed sheep­dog. The new­ly born lambs are close to their moth­ers, secur­ing their bond and learn­ing each other's calls. With long, wob­bly legs and huge, fluffy ears, it's hard to get much cuter than a new­born lamb. Except when you put a sweater on one of course.
Sarah Pope and her fam­i­ly took over the his­toric farm in 2017. Estab­lished in the 1970s by Joan Roberts, Oak Knoll and the flock of North Coun­try Cheviot Sheep had dwin­dled when Sarah and her fam­i­ly were called to take it over. It was a steep learn­ing curve becom­ing shep­herds, but they have revived the flock and now have around 120 Cheviots, Finn Sheep, and Finn crosses.
The lambs don't always have to wear a sweater, Sarah told me. But Cady, named after Cady Moun­tain here on San Juan Island, was born small and need­ed a lit­tle extra care to make sure she main­tained a good body tem­per­a­ture her first few days of life. I asked Sarah how to find a knit­ting pat­tern for a lamb sweater. She told me she pret­ty much invent­ed this one but you can find many pat­terns for dogs that will fit a lamb. Alter­ing an old sweat­shirt can also work and two babies born Thurs­day night donned this style.
Asked if there are oth­er ways she feels like a sheep moth­er, Sarah laughed and said she is def­i­nite­ly a sheep doula, try­ing to be there for each birth of a new lamb and help­ing the moth­ers if need­ed. If there is a prob­lem with get­ting milk, the lambs are bot­tle fed. "Bot­tle lambs" are more com­fort­able around humans, which is evi­denced when we vis­it the pas­ture. A cute lit­tle guy fol­lowed us and nudged our hands to check if we had any­thing for him.
It's clear that Oak Knoll and the Cheviot breed that Joan Roberts fos­tered have been giv­en a new life with lov­ing care­givers. You can find their fiber and yarn and more about their sto­ry at SanJuanWoolWorks.com.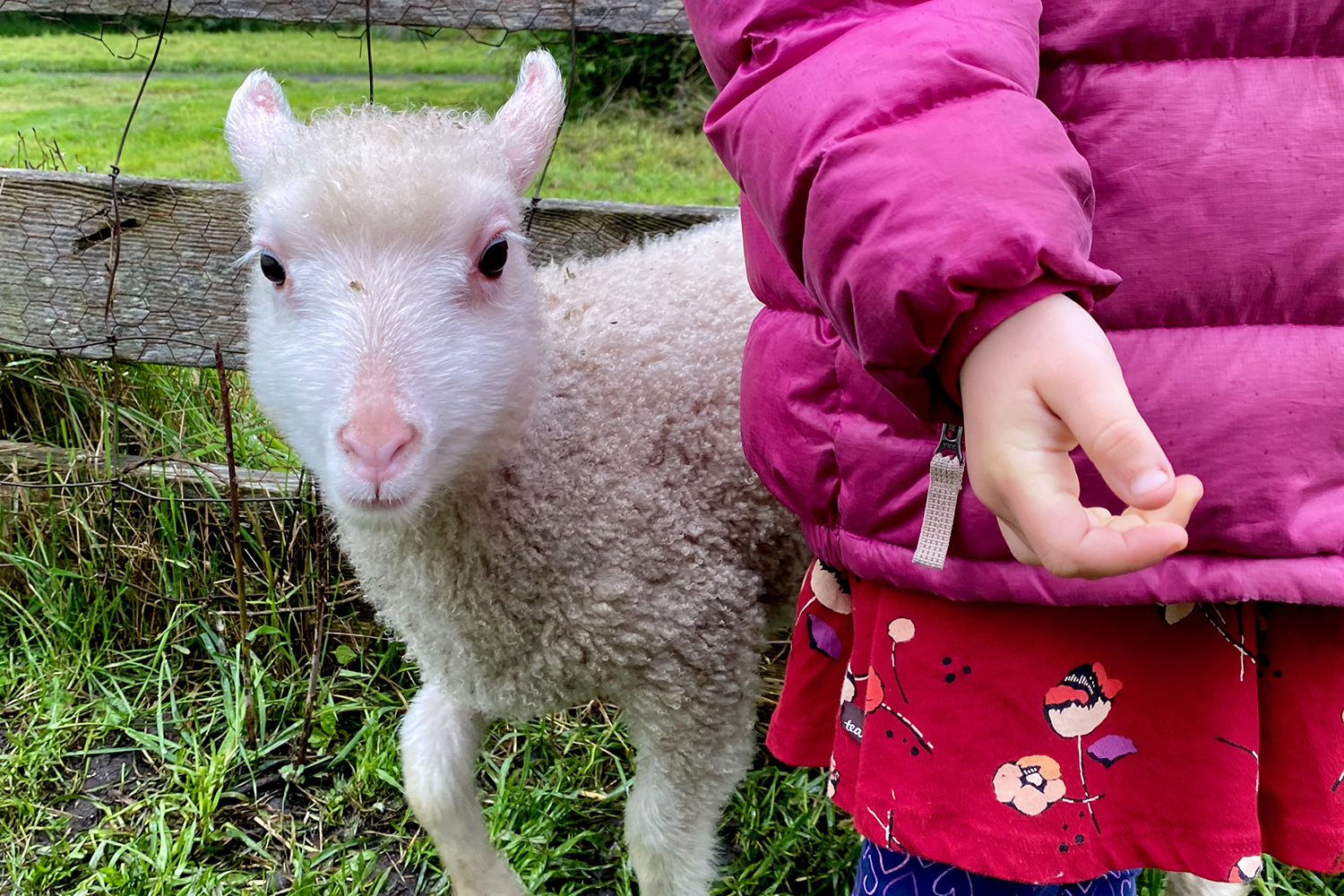 You can support the San Juan Update by doing business with our loyal advertisers, and by making a one-time contribution or a recurring donation.