U.S. Representative Rick Larsen visits Friday Harbor; addresses marine infrastructure, cost of living, affordable housing, and the war in Ukraine
Posted May 2, 2022 at 11:47 am by Jeff Arnim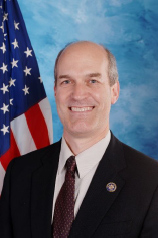 Con­gress­man Rick Larsen and his staffers vis­it­ed Fri­day Har­bor on Sat­ur­day to meet with local gov­ern­ment and non­prof­it lead­ers and hold the first San Juan Coun­ty event for the 2022 cam­paign cycle.
After arriv­ing late due to a delayed fer­ry sail­ing, Larsen first met with Fri­day Har­bor town offi­cials to learn about the impacts of last mon­th's arson on down­town. He lat­er dis­cussed afford­able hous­ing issues with the Oppor­tu­ni­ty Coun­cil, San Juan Coun­ty's Depart­ment of Health & Com­mu­ni­ty Ser­vices, and the San Juan Com­mu­ni­ty Home Trust. Larsen then met with con­stituents at a 2022 cam­paign kick-off event held at Fri­day Har­bor House.
The San Juan Update caught up with Larsen to dis­cuss a hand­ful of issues of con­cern to island con­stituents, includ­ing marine infra­struc­ture, the future of the expand­ed child tax cred­it, leg­isla­tive pri­or­i­ties for the rest of 2022, infla­tion, the war in Ukraine, and the state of bipar­ti­san­ship in Wash­ing­ton, D.C.
Marine infra­struc­ture is a major issue in the San Juan Islands. The state fer­ry fleet is aging and has an exten­sive main­te­nance back­log, and docks and land­ings that oth­er ves­sels use to bring crit­i­cal goods to the islands are crum­bling. In what ways do you expect the tril­lion-dol­lar infra­struc­ture pack­age that was signed into law last Novem­ber to improve this coun­ty's marine infrastructure?
It could, but I won't make a promise. When you're look­ing at the fer­ry sys­tem, the state gov­ern­ment deals with the plan­ning for what the fer­ry land­ings will be and what the time­line for invest­ment is going to be. But for the Port of Fri­day Har­bor and the oth­er ports — Port of Orcas, Port of Lopez — it's eas­i­er to access those dol­lars for the small­er juris­dic­tions. I met with Vic­to­ria Comp­ton today, the Fri­day Har­bor Port Com­mis­sion­er, about the barge access and land­ing at Jensen's, which helps get goods onto San Juan Island. There's the Port Infra­struc­ture Devel­op­ment Pro­gram, or PIDP, and that's prob­a­bly that's one area the local port can look to for fed­er­al dol­lars. I'm also going to pur­sue an ear­mark specif­i­cal­ly out­side of that process for the [Jensen's] project, because I under­stand it's degrad­ing and needs replace­ment. So that's an area where we're local folks can benefit.
For the fer­ry sys­tem, I think it's real­ly a mat­ter of what your state leg­is­la­tors are able to do and put in pri­or­i­ty, but the fed­er­al mon­ey can be used for ter­mi­nal devel­op­ment for the devel­op­ment and rede­vel­op­ment of fer­ry ter­mi­nals, as well as for ferries.
Can you talk more about using those funds for the ves­sels themselves?
There's a lim­it, because of the make-it-in-Wash­ing­ton pro­vi­sions in the state law [which require that new ves­sels be con­struct­ed with­in the bound­aries of the state of Wash­ing­ton.] Unless the state fer­ry sys­tem com­petes nation­al­ly, you can't get the fed­er­al dol­lars — or you're lim­it­ed in what you can do with the fed­er­al dol­lars. That's the biggest chal­lenge that state fer­ry sys­tem has to access­ing fed­er­al dol­lars. But you can pur­sue ter­mi­nal dol­lars, then you can shift the state dol­lars that you were going to put in ter­mi­nal devel­op­ment to fer­ry construction.
I can't make the state law change, but we can cre­ate the pro­grams and put the dol­lars in those pro­grams for the state to pursue.
It's finan­cial­ly chal­leng­ing for work­ing fam­i­lies to raise chil­dren in the islands, illus­trat­ed by the fact that 36 per­cent of San Juan Island School Dis­trict stu­dents receive free or reduced lunch. The infra­struc­ture bill that passed the House includ­ed a one-year exten­sion of the expand­ed child tax cred­it that ben­e­fit­ed many island fam­i­lies over the past two years, but that pro­vi­sion did not make it into the final pack­age signed by the pres­i­dent. Do you see a path for­ward for per­ma­nent­ly extend­ing that credit?
The les­son I've learned in 22 years in Con­gress is that the hard­er you work, the bet­ter your odds are. The suc­cess of the child­care tax cred­it is that it reduced child pover­ty by 40 per­cent. I think about 11 per­cent of peo­ple use that child­care tax cred­it for child­care. But like 40 per­cent — a much high­er per­cent­age — used it for food, and for hous­ing, just for basics. Fam­i­lies that had kids got help. So there is a very good argu­ment to extend the child care tax cred­it. And so I'll be pur­su­ing that.
We also waived require­ments for sum­mer meal pro­grams that were fund­ed for free and reduced lunch pro­grams dur­ing the sum­mer, so that any kid could par­tic­i­pate. This admin­is­tra­tion rescind­ed that waiv­er, now that we're through the pan­dem­ic. But it's I think it's one of those waivers where we need to return to it and say, No, the suc­cess of the of the sum­mer meals pro­grams done through our local non­prof­it agen­cies was very suc­cess­ful dur­ing the pan­dem­ic, it fed kids, and we need to con­tin­ue that.
So, extend the child care tax cred­it, rein­state the waiv­er for the sum­mer meals pro­grams through our local non­prof­its — those are a cou­ple things that we can do to help relieve the cost of liv­ing for local fam­i­lies. And it's it's a chal­lenge here in the San Juans. For every prob­lem that exists in the coun­ties I rep­re­sent on the main­land, you've got to mul­ti­ply it by some fac­tor here in [San Juan Coun­ty] and I under­stand that.
Cur­rent polling sug­gests that Democ­rats will lose their House major­i­ty when the 118th Con­gress con­venes next Jan­u­ary. Which leg­is­la­tion do you intend to pri­or­i­tize for the rest this year, while that major­i­ty is still in place, and how will that agen­da ben­e­fit the res­i­dents of San Juan Island?
In 22 years, I've been able to pass leg­is­la­tion in the major­i­ty and the minor­i­ty, because my focus has been on try­ing to get bipar­ti­san sup­port for bills. So in terms of pass­ing leg­is­la­tion, I'm not as con­cerned whether I'm in a major­i­ty of the minor­i­ty. In terms of sup­port­ing work­ing fam­i­lies, and the strug­gles that peo­ple have in San Juan Coun­ty, I'd be much more con­cerned if there was a Repub­li­can major­i­ty, because I think the num­bers show — and the actions show — that folks who live in San Juan Coun­ty aren't the kinds of folks that that the Repub­li­can major­i­ty will pay a lot of atten­tion to. And that's my biggest concern.
That said, what I real­ly need to watch out for is the dol­lars that are going into sup­port­ing afford­able hous­ing, because those are the kinds of dol­lars that a Repub­li­can major­i­ty will look at and try to cut, when in fact there's still a tremen­dous need here in San Juan Coun­ty. So rather than a piece of leg­is­la­tion, it will be more of a focus on try­ing to ensure that there's robust fund­ing for pro­grams that the folks use here to sup­port the devel­op­ment of afford­able housing.
Ris­ing infla­tion is of par­tic­u­lar con­cern here in the islands, where our cost of liv­ing was already high. Does Con­gress have any tools at its dis­pos­al to address inflation?
I don't want to sound neg­a­tive about Con­gress, but solv­ing the prob­lem of infla­tion is large­ly a Fed­er­al Reserve issue, not a con­gres­sion­al issue. It's hard for peo­ple to hear that. But I do think that as mem­bers of Con­gress we need to show we're try­ing to do some­thing where we can on costs. One of those areas is giv­ing Medicare the author­i­ty to nego­ti­ate low­er drug prices. I know the pop­u­la­tion here in San Juan Coun­ty, I know it well, I know that it's rel­a­tive­ly old­er, and I know that pre­scrip­tion drug costs are a big issue for folks. So let's get Medicare what Vet­er­ans Affairs has, which is the abil­i­ty to nego­ti­ate low­er drug prices. Let's lim­it the out of pock­et copay costs of insulin to $35. Let's start there.
You can trace the spike in gas prices to when Putin start­ed his unpro­voked inva­sion in Ukraine. So you can blame Putin for some of the gas price increase. How­ev­er, gas prices were increas­ing well before Feb­ru­ary 24; we need to rec­og­nize that as well. The pres­i­dent is now releas­ing 1 mil­lion bar­rels of oil a day from the Strate­gic Petro­le­um Reserve. What that means is they're to try­ing to put refined oil out into the mar­ket to alle­vi­ate high gas prices. And gas prices have sta­bi­lized. Unfor­tu­nate­ly, they have sta­bi­lized right now statewide at about $4.70, but they were 20 cents high­er about a month ago.
But when you look at the Brent Crude oil prices, or West Texas Inter­me­di­ate oil prices, they're up and down, while the price of gas, that retail [cus­tomers] pay stays flat. There's some­thing sticky about gas prices that needs to get looked at, so that there's trans­paren­cy in the mar­ket. If you intro­duce some more trans­paren­cy, maybe gas prices come down as well. But it's com­plex. I pay the same gas prices every­one else is pay­ing, for the record. And I don't like it either.
The Biden admin­is­tra­tion has asked Con­gress for an addi­tion­al $33 bil­lion to respond to the Russ­ian inva­sion of Ukraine, more than dou­ble what has been autho­rized so far. What is your posi­tion on that request?
I sup­port it, [although] we may argue around the edges about what it ought to go to. When we did the first $13.6 bil­lion, on mil­i­tary aid, for instance, we did­n't say specif­i­cal­ly that the admin­is­tra­tion had to buy X num­ber of Stinger mis­siles or X num­ber of any num­ber of weapons. But we did define the [gen­er­al] needs — Ukraine needs anti-tank, they need anti-air­craft, they need these kinds of weapons, these kinds of capa­bil­i­ties — and then the admin­is­tra­tion went for­ward and used what we call pres­i­den­tial draw­down author­i­ty. It's very dif­fi­cult right now for the folks in Ukraine. It's impor­tant that we con­tin­ue to sup­port the Ukrain­ian mil­i­tary, the lead­er­ship, and the peo­ple of Ukraine with eco­nom­ic aid, human­i­tar­i­an aid, and the mil­i­tary aid — it all needs to continue.
We need to avoid a direct con­fronta­tion with Rus­sia. But I think it's impor­tant to under­stand that it's pret­ty clear that Rus­sia and Putin, they want to avoid a direct con­fronta­tion with NATO and the U.S. as well. It's not just us that wants to avoid con­fronta­tion; it's pret­ty clear that Putin is cal­cu­lat­ing to try to stay out of our way, face to face. If that were to hap­pen, he knows what would hap­pen to the Russ­ian mil­i­tary; he'd be more embar­rassed than he is now.
Some of your con­stituents, regard­less of polit­i­cal affil­i­a­tion, believe that bipar­ti­san­ship in Wash­ing­ton D.C. is dying or already dead. Does your expe­ri­ence work­ing with the cur­rent Con­gress reflect that viewpoint?
It's nowhere near. I can point to sev­er­al mem­bers of Con­gress that are go-to Repub­li­cans that I work with on issues, and I'm one of their go-to Democ­rats. Now, those are not the issues that folks are going to read about or hear about watch­ing Tuck­er Carl­son, or Sean Han­ni­ty, or any­one on MSNBC on the Demo­c­ra­t­ic side of the aisle. But there are plen­ty of Repub­li­cans that I work with on impor­tant issues that we think are the things we need to solve.
I'm the chair of the avi­a­tion sub­com­mit­tee. There are a lot of what are called new entrants into the air­space. It's more than air­planes now — it's drones, it's fly­ing taxis, which are a real­i­ty and are going to hap­pen. They call it advanced air mobil­i­ty. Those are issues that are meaty pol­i­cy issues, and Democ­rats and Repub­li­cans are work­ing togeth­er to try to be sure there's a frame­work in the future so that we have a safe air­space, that these new entrants don't run into each oth­er, if you will. That's an exam­ple of how Democ­rats and Repub­li­cans are work­ing together.
The flip­side is that we dif­fer on some things. We dif­fer on [the ques­tions of] should peo­ple have low hur­dles to vot­ing and high penal­ties if you've engaged in vot­er fraud? I think we should have low hur­dles to vot­ing and high penal­ties to vot­er fraud. My Repub­li­can col­leagues don't. I think that we should not pri­va­tize Social Secu­ri­ty, or Medicare, and the Sen­ate Repub­li­cans already talk­ing about doing both in the future. I think that cor­po­ra­tions and the wealth­i­est Amer­i­cans should pay more in tax­es, or at least their fair share, which they aren't doing now. And my Repub­li­can col­leagues, we're going to dis­agree on this. Is there a bipar­ti­san solu­tion to those [issues]? I don't think that there is — they're dia­met­ri­cal­ly opposed. But I also think that I'm right, and the Democ­rats are right, on those issues.
You can support the San Juan Update by doing business with our loyal advertisers, and by making a one-time contribution or a recurring donation.