Burning closed until October
Posted June 1, 2022 at 8:29 am by San Juan Update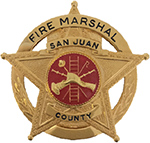 The San Juan Coun­ty Fire Mar­shal sends along an update about burn permits.
Res­i­den­tial and com­mer­cial burn­ing closed for the sea­son effec­tive June 1. Per­mits will become avail­able again in October.
Recre­ation­al camp­fires remain open at this time and include attend­ed fires con­sist­ing of clean, dry fire­wood in an approved fire pit up to three feet in diam­e­ter sur­round­ed by at least three feet diam­e­ter of bare soil, grav­el, or oth­er non-flam­ma­ble mate­r­i­al. Recre­ation­al fires should be locat­ed a safe dis­tance from struc­tures and have a charged hose or 5‑gallon buck­et of water near­by to assist with extin­guish­ing. Be sure your recre­ation­al camp­fires are dead out by sat­u­rat­ing with water before leav­ing unattended.
For more infor­ma­tion on burn­ing in San Juan Coun­ty, vis­it the Fire Marshal's web­site.
You can support the San Juan Update by doing business with our loyal advertisers, and by making a one-time contribution or a recurring donation.