Plastic Free July — habit shift #16
Posted July 16, 2022 at 4:42 pm by San Juan Update
Tran­si­tion San Juan Island's Waste Reduc­tion group shares today's habit shift inspi­ra­tion from the glob­al Plas­tic Free July campaign.
Bathroom Audit
Plas­tic bot­tles and con­tain­ers hide in all cor­ners of the bath­room and they are also some of the eas­i­est to elim­i­nate. There are many sim­ple solu­tions for the bath­room that will not only reduce plas­tic waste and have a pos­i­tive impact for the envi­ron­ment, but can also have a pos­i­tive impact on your bud­get. Take a look around to see which plas­tic items you can replace with pack­age-free options:
Sham­poo, face, and shav­ing prod­ucts in bar form can be found at San Juan Island Food Co-op or Salty at Heart Island Apothecary
Bring your emp­ty con­tain­er and refill sham­poo, con­di­tion­er, and hair prod­ucts at Salt & Sand Salon, the co-op, or Salty at Heart
Switch to reusable razors and razor blades
Switch to 100% recy­cled toi­let paper
Find plas­tic-free peri­od prod­ucts at the co-op and Salty at Heart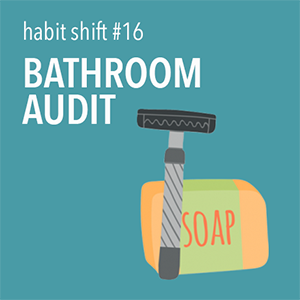 You can support the San Juan Update by doing business with our loyal advertisers, and by making a one-time contribution or a recurring donation.