Sable is the Animal Protection Society's pet of the week
Posted July 16, 2022 at 11:05 am by San Juan Update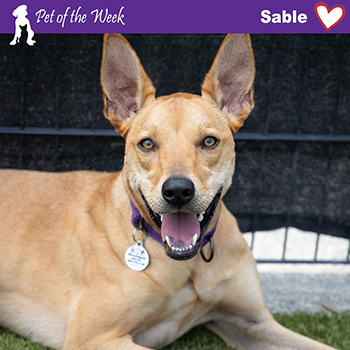 Here's the adopt­able ani­mal of the week from the Ani­mal Pro­tec­tion Soci­ety of Fri­day Har­bor — Sable, a 45-pound pharaoh hound mix.
Sable is not just your every­day dog; she's kind of like your "girl next door" type, but in the body of an ath­let­ic super­mod­el — a com­plete pack­age. This 'Sporty Spice' may be slen­der, but she packs some pow­er in those extra-long legs and tail. You might want to recruit her for your neigh­bor­hood bas­ket­ball team with hops like hers, or maybe ask her to join you in your next marathon with her endurance.
Sable would be hap­py to play all day out­side, watch the sun­set, hit up a beach bon­fire, then head home to wind down on the couch with a bone. She might sleep in a lit­tle late, but she's always down to brunch with the girls and hit the fris­bee golf course after. Sable is a smart, young lady who is eager to be top of the class. A lit­tle praise goes a long way with this nat­ur­al peo­ple pleas­ing gal. If you're ready to hit the track (or the trails), look­ing for com­pan­ion­ship, and like to have a bit of arm can­dy on your side, then come on down to the shel­ter and res­cue Sable. She's ready to go.
You can support the San Juan Update by doing business with our loyal advertisers, and by making a one-time contribution or a recurring donation.