Fire & Rescue extinguishes second Mt. Dallas fire in a week
Posted August 1, 2022 at 8:28 am by San Juan Update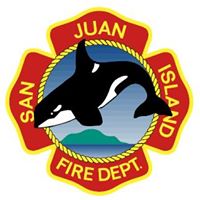 Fire & Res­cue shares news about anoth­er rur­al fire that occurred over the weekend.
San Juan Island Fire & Res­cue respond­ed on an inter­face fire on Mt. Dal­las late Sat­ur­day morn­ing. Crews arrived to find a res­i­dent attempt­ing to extin­guish a fire in grass­es and scrub on the hill­side. The ear­ly noti­fi­ca­tion and quick response by career and vol­un­teer fire­fight­ers allowed quick con­tain­ment of the fire to approx­i­mate­ly one acre. No struc­tures were threat­ened. The cause of the fire is under inves­ti­ga­tion, but it may have been caused by a spark from oper­at­ing equipment.
Hav­ing respond­ed to two inter­faces fire in just a few days, SJIF&R wants to remind res­i­dents and vis­i­tors that the dry weath­er and high­er than nor­mal tem­per­a­tures cre­ate an envi­ron­ment for faster igni­tion and the poten­tial for larg­er fires. The fire dan­ger is cur­rent­ly list­ed as medi­um. How­ev­er, if high tem­per­a­tures con­tin­ue, it is like­ly to be raised to high.
You can support the San Juan Update by doing business with our loyal advertisers, and by making a one-time contribution or a recurring donation.