Town Council to consider the future of the Dutch elms of Memorial Park
Posted August 11, 2022 at 11:55 am by Jeff Arnim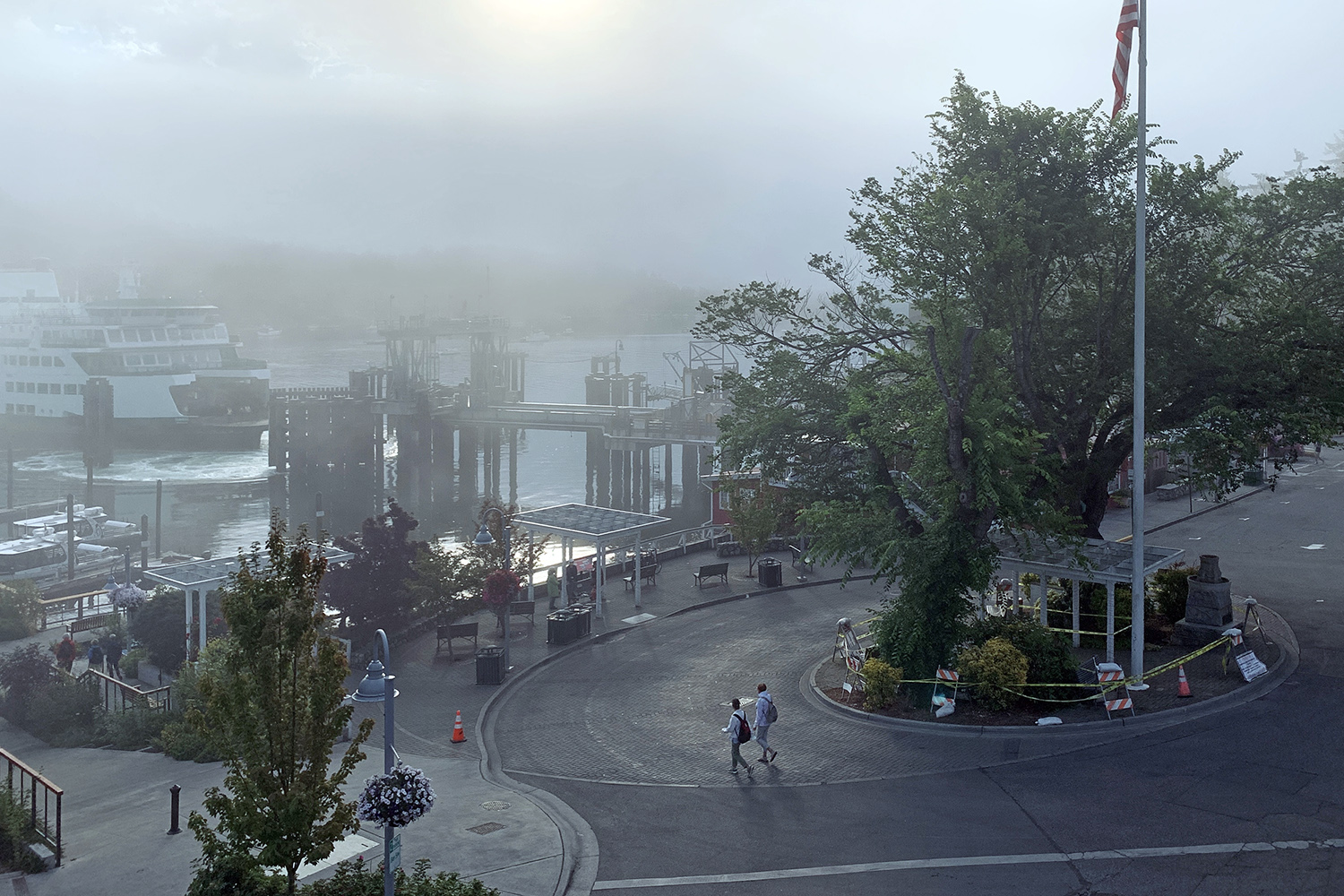 The Fri­day Har­bor Town Coun­cil could deter­mine the path for­ward for the two ail­ing Dutch elm trees at the foot of Spring Street as ear­ly as next week.
"There is def­i­nite­ly more work to be done on the trees," says Town Admin­is­tra­tor Denice Kulseth. Urban Tree Services/Bartlett Con­sult­ing, the arborist with whom the Town is work­ing, has laid out a 12-year recov­ery plan, she says.
"Before I take this to Coun­cil, I need addi­tion­al infor­ma­tion and some clar­i­fi­ca­tions from the arborist. I'm also work­ing on gath­er­ing infor­ma­tion on the costs to car­ry out the arborist's plan. I hope to take this to Coun­cil on August 18, but that will large­ly depend on how time­ly I receive answers to my questions."
The Coun­cil will be asked to con­sid­er the lev­el of risk pre­sent­ed by keep­ing the trees, the costs to keep them, and the costs to replace them.
A large branch from the north­ern­most tree fell on the night of June 2, tak­ing out a street­lamp, block­ing the bot­tom of the Spring Street traf­fic cir­cle, and clos­ing access to Memo­r­i­al Park. Pre­lim­i­nary inspec­tions by cer­ti­fied arborists iden­ti­fied the cause as severe rot. The Town was then direct­ed to alle­vi­ate excess weight in the tree that lost the limb, as well as to remove dead and dying limbs in oth­er tree. That work was com­plet­ed on June 13.
The two elms were plant­ed in May 1922 by the Women's Study Club as a memo­r­i­al to those lost in WWI, with one rep­re­sent­ing Army loss­es and one rep­re­sent­ing Navy losses.
You can support the San Juan Update by doing business with our loyal advertisers, and by making a one-time contribution or a recurring donation.