Scottish folk band Talisk comes to San Juan Community Theatre on Nov. 6
Posted October 24, 2022 at 9:52 pm by San Juan Update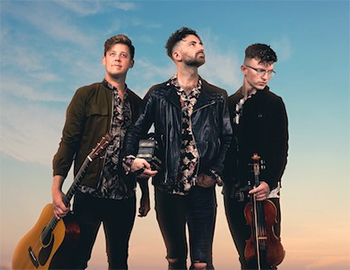 SJCT shares news about one of their upcom­ing concerts.
Talisk is set to per­form live at San Juan Com­mu­ni­ty The­atre at 7:30 p.m. on Sun­day, Nov. 6. Their con­certs have been described as infec­tious, fresh and cap­ti­vat­ing, so pre­pare for an evening of high-ener­gy music that is sure to lift your spir­its and get you out of your seats.
Since the release of their debut album in 2018, Talisk have received many awards, includ­ing a BBC Radio 2 Folk Award. Band mem­bers Mohsen Ami­ni, Graeme Arm­strong and Bene­dict Mor­ris play tra­di­tion­al instru­ments — con­certi­na, gui­tar and fid­dle — in a bold and invig­o­rat­ing new way.
Tick­ets are $33 for adults and $16 for reserved stu­dent seat­ing. $5 stu­dent rush tick­ets are avail­able an hour before show time.
You can support the San Juan Update by doing business with our loyal advertisers, and by making a one-time contribution or a recurring donation.