County Council meets with WSF officials
Posted November 23, 2022 at 1:41 pm by San Juan Update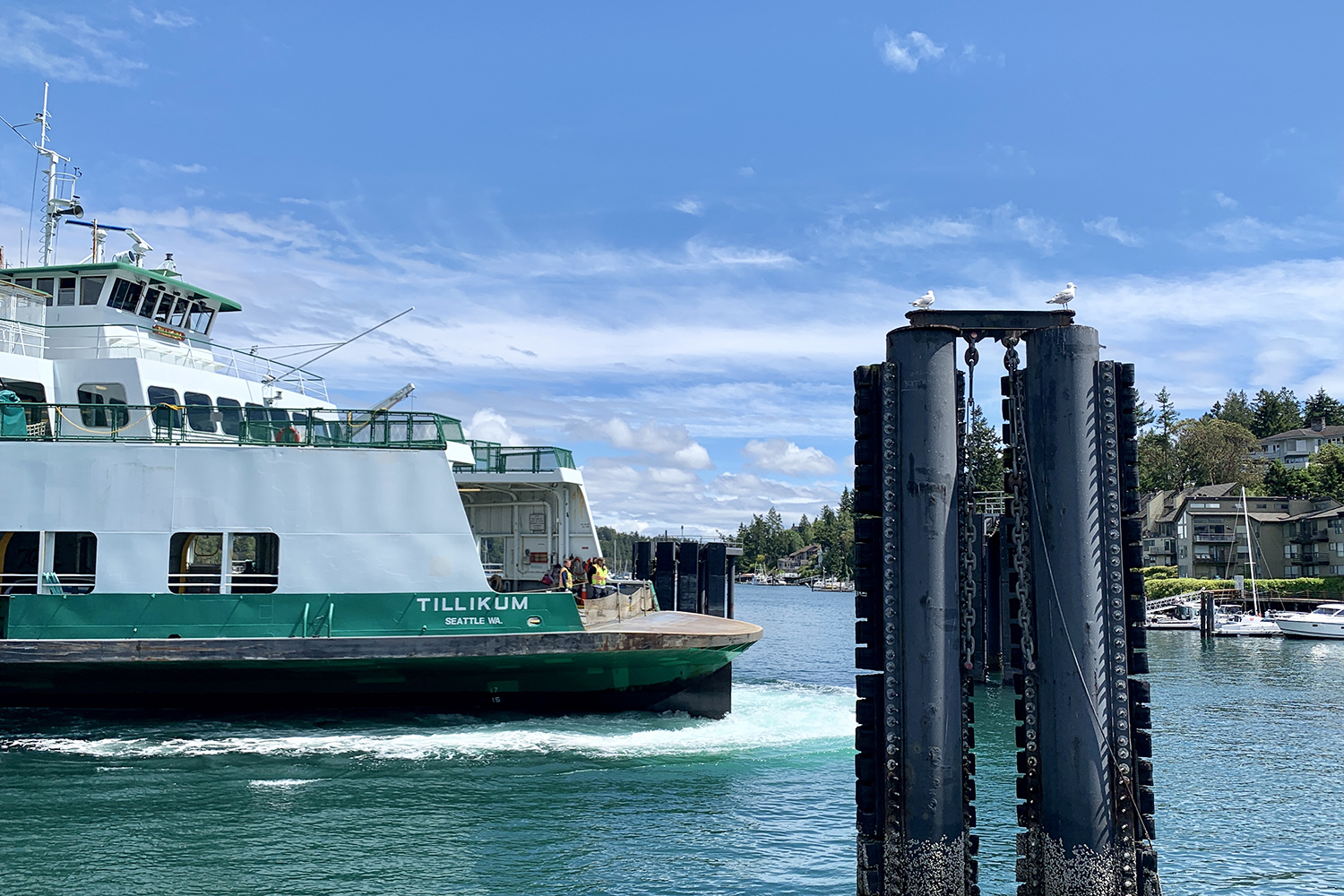 San Juan Coun­ty sends along an update about a recent meet­ing between the Coun­ty Coun­cil, state leg­is­la­tors, and Wash­ing­ton State Ferries.
Ahead of the busy, upcom­ing hol­i­day sea­son, mem­bers of San Juan County's Coun­cil met with Wash­ing­ton State offi­cials and rep­re­sen­ta­tives from the Wash­ing­ton State Fer­ries to express islanders' need for reli­able fer­ry service.
Coun­ty Coun­cilmem­bers Jamie Stephens and Cindy Wolf joined Rep­re­sen­ta­tive Debra Lekanoff; Wash­ing­ton State Sec­re­tary of Trans­porta­tion Roger Mil­lar; WSF Assis­tant Sec­re­tary Pat­ty Rub­stel­lo; Direc­tor of Marine Oper­a­tions Steve Nevey; and Direc­tor of Plan­ning, Cus­tomer and Gov­ern­ment Rela­tions John Vez­i­na to dis­cuss devel­op­ments in WSF ser­vices and operations.
"We're so grate­ful to Rep. Lekanoff for orga­niz­ing this meet­ing because we were able to give folks a clear­er under­stand­ing of the impor­tance of the inter­is­land run," said Coun­cilmem­ber Cindy Wolf.
WSF report­ed there were 45 can­cel­la­tions of San Juan Islands route sail­ings in the span of two weeks – which falls three per­cent short of their goal of 99 per­cent reli­a­bil­i­ty. Atten­dees dis­cussed ways to be more effi­cient in noti­fy­ing rid­ers of can­cel­la­tions and work­ing togeth­er to ensure islanders have enough time to make oth­er arrange­ments. The impor­tance of the inter­is­land route was emphasized.
"These can­cel­la­tions affect work­ing fam­i­lies, school chil­dren, gov­ern­ment oper­a­tions, social ser­vices, sher­iff oper­a­tions, and more," Wolf said. "It impacts our abil­i­ty to do busi­ness as a com­mu­ni­ty when small trades­peo­ple can lose 20 per­cent of their income for a week when the inter­is­land is cancelled."
WSF com­mit­ted to work­ing with Rep. Lekanoff and Coun­ty Coun­cil on bet­ter noti­fi­ca­tion strate­gies. A com­mit­tee con­sist­ing of elect­ed offi­cials and local cham­bers of com­merce is one pro­posed solu­tion that might sup­port the San Juan Islands and Ana­cortes Fer­ry Advi­so­ry Committees.
WSF antic­i­pates that their increased focus on recruit­ment and employ­ee edu­ca­tion will bring relief to the sys­tem by the sum­mer of 2023. They expect less can­cel­la­tions due to staffing shortages.
"I was glad to hear they are review­ing the dwell time," said Coun­cilmem­ber Stephens. "Under­stand­ing the time it takes to load and unload boats – espe­cial­ly dur­ing the sum­mer – is key to keep­ing the boats on schedule."
Ear­li­er this year, WSF cre­at­ed two new pro­grams that encour­age cur­rent employ­ees to take the nec­es­sary cours­es and exams to obtain a mates' cre­den­tial. Over the next 18 months, they expect more than 40 to com­plete all the train­ing and cre­den­tials nec­es­sary to work as mates, which will sup­port future sys­tem sta­bil­i­ty. They'll be work­ing with Gov­er­nor Inslee and the leg­is­la­ture to make these pro­grams permanent.
You can support the San Juan Update by doing business with our loyal advertisers, and by making a one-time contribution or a recurring donation.