County residents vote to retain the status quo — almost
Posted November 8, 2022 at 8:30 pm by Jeff Arnim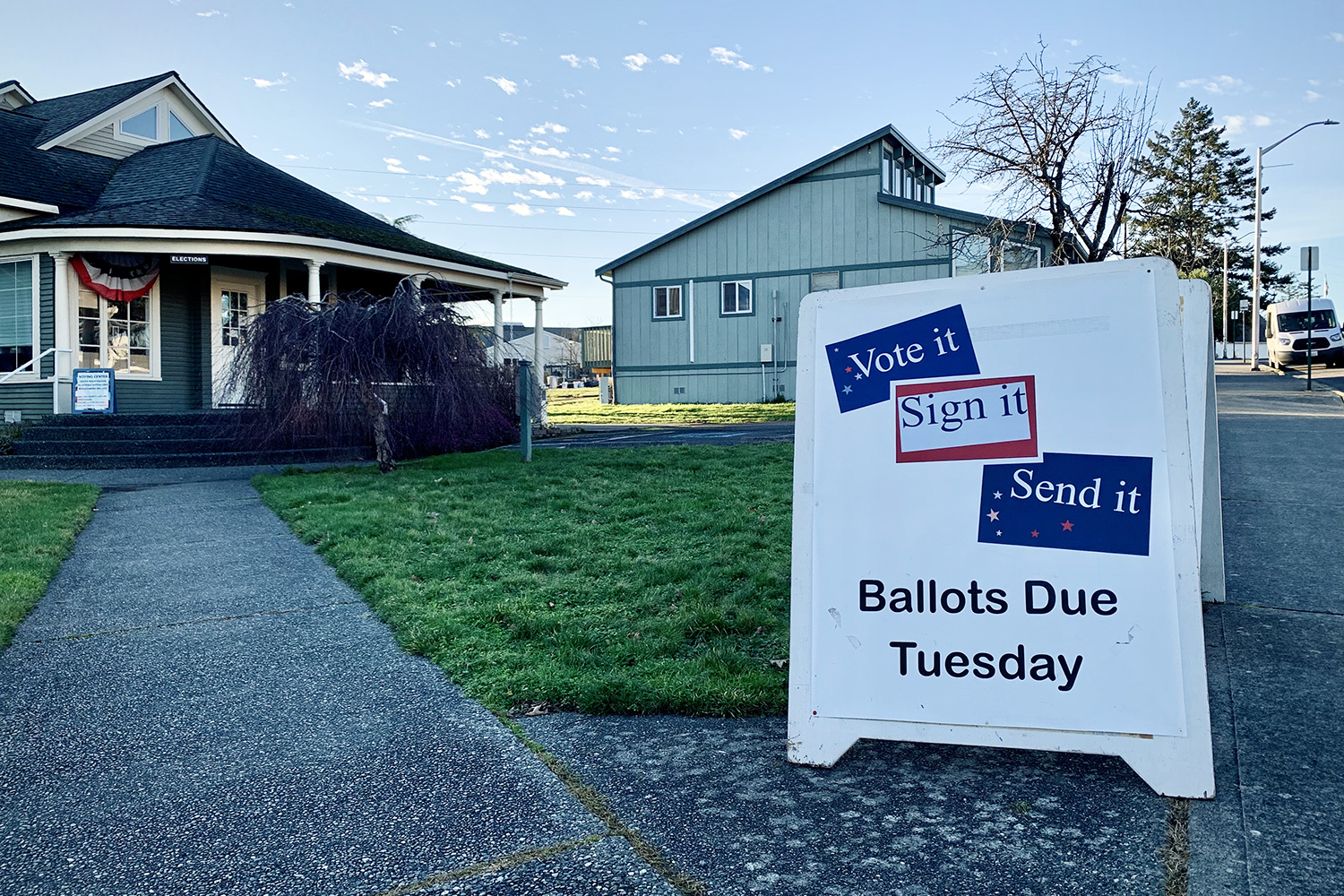 After months of inspired cam­paign­ing, vig­or­ous debate, and so many let­ters to the edi­tor, the Nov. 8 gen­er­al elec­tion in San Juan Coun­ty heads toward its conclusion.
With rough­ly 89 per­cent of the vote count­ed, San Juan Coun­ty appears poised to elect a new Sher­iff, with Eric Peter lead­ing incum­bent Ron Krebs by just under three per­cent­age points — 51.2 per­cent to 48.5 per­cent. Peter leads by 196 votes with an esti­mat­ed 950 bal­lots left to be counted.
The oth­er races on the bal­lot reflect a desire to retain the cur­rent state of affairs.
The San Juan Island Library Dis­trict propo­si­tion to issue $12 mil­lion in bonds to pay the cap­i­tal costs of acquir­ing, con­struct­ing, fur­nish­ing and equip­ping a new build­ing in Fri­day Har­bor will fail, with 59 per­cent of vot­ers reject­ing the measure.
The Coun­ty's road levy lid lift propo­si­tion — which would add an esti­mat­ed 44 cents per $1,000 in assessed prop­er­ty val­ue above the rate for 2023 for the pur­pose of main­tain­ing roads and marine facil­i­ties, repair­ing storm dam­age, and enhanc­ing roads for pedes­tri­ans and cyclists — will also fail, with 56 per­cent of vot­ers say­ing no.
All four Coun­ty Char­ter amend­ment propo­si­tions on the bal­lot are like­ly head­ed for rejec­tion as well.
Propo­si­tion 1, which would estab­lish a new Pub­lic Advo­cate posi­tion for the Coun­ty, was reject­ed by 65 per­cent of voters.
Propo­si­tion 2, which calls for sev­er­al pro­vi­sions relat­ed to the Coun­ty's Char­ter Review Com­mis­sion, is the clos­est con­test, with 51 per­cent of vot­ers opt­ing against it. 176 votes sep­a­rate the two sides.
Propo­si­tion 3, which would put ranked-choice vot­ing into effect in San Juan Coun­ty if the Wash­ing­ton Leg­is­la­ture pass­es a law per­mit­ting the process, received 57 per­cent of the no vote.
Propo­si­tion 4, which would amend Title 6 of the Coun­ty Char­ter to reduce the num­ber of qual­i­fied sig­na­tures required for San Juan Coun­ty ini­tia­tives and ref­er­en­dum peti­tions from 15 per­cent to eight per­cent of the votes cast in the coun­ty in the last elec­tion for Gov­er­nor, was round­ly defeat­ed, with 67 per­cent of vot­ers reject­ing the measure.
Incum­bents at all lev­els of state and fed­er­al gov­ern­ment — Debra Lekanoff and Alex Ramel in Leg­isla­tive Dis­trict 40, Sec­re­tary of State Steve Hobbs, U.S. Rep­re­sen­ta­tive for Con­gres­sion­al Dis­trict 2 Rick Larsen, and U.S Sen­a­tor Pat­ty Mur­ray — are cur­rent­ly lead­ing their respec­tive races.
You can support the San Juan Update by doing business with our loyal advertisers, and by making a one-time contribution or a recurring donation.