Getting sports back in the schools.…
Posted March 12, 2009 at 3:41 pm by Ian Byington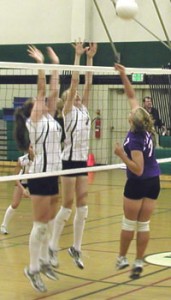 Just received this note from schools super­in­ten­dent Michael Soltman.…as you know, the school board cut the fund­ing for school-fund­ed sports last week. Now, the schools are look­ing for anoth­er enti­ty to work with on this, so they're get­ting a cam­paign ready to reach their goals, with Island Rec. Here's more:
Island Rec and SJISD Announce Part­ner­ship to Fund Ath­let­ic Pro­grams: San Juan Island Park and Recre­ation Dis­trict ("Island Rec") and the San Juan Island School Dis­trict have announced a part­ner­ship to devel­op a fund­ing strat­e­gy to con­tin­ue an inter­scholas­tic ath­let­ic pro­gram for Island stu­dents. At a School Board meet­ing last week, the board took action to reduce near­ly $800,000 from its $9 mil­lion oper­at­ing bud­get. Pro­gram reduc­tions includ­ed sig­nif­i­cant cuts in admin­is­tra­tion and non-instruc­tion­al ser­vices, reduc­tion of 3 teach­ing posi­tions, and the elim­i­na­tion of fund­ing for the ath­let­ic pro­gram. At the meet­ing, Super­in­ten­dent Solt­man said, "We remain com­mit­ted to pro­vid­ing inter­scholas­tic ath­let­ic pro­grams to our Island stu­dents, but we must find a way to fund this pro­gram out­side of the Dis­tric­t's gen­er­al fund."
"Island Rec is the com­mu­ni­ty's Park and Recre­ation Dis­trict and a nat­ur­al part­ner to approach to obtain resources to sus­tain this essen­tial pro­gram for our youth. Over 289 stu­dents par­tic­i­pate on 14 ath­let­ic teams, annu­al­ly, includ­ing stu­dents from the pub­lic school, pri­vate schools, and home schools through­out the com­mu­ni­ty," Solt­man said. Ralph Hahn, Chair of the Island Rec Board of Direc­tors said, "Island Rec's Board is in full agree­ment of doing what we can to sus­tain the sports pro­gram for our kids. It is just not an option for our com­mu­ni­ty to elim­i­nate its inter­scholas­tic sports program."
Details of the fund­ing strat­e­gy will be dis­cussed at a pub­lic meet­ing sched­uled for Wednes­day, March 18th, 7:00 p.m. at the Mid­dle School Com­mons. "Now is the time for all peo­ple con­cerned about sus­tain­ing this sports pro­gram to join us at this meet­ing," said Sal­ly Thom­sen, Island Rec Direc­tor. The fund­ing solu­tion must include a plan to renew the Island Rec Park Dis­trict levy in Novem­ber with suf­fi­cient capac­i­ty to sup­port the annu­al cost of the ath­let­ic program.
Assum­ing a suc­cess­ful levy in Novem­ber, first tax receipts would be received in April 2010, pro­vid­ing enough rev­enue to fund the win­ter and spring sports sea­sons. How­ev­er, in order to fund the fall 2009 sea­son, $45,000 must be raised this spring. Pur­ple and Gold and Fri­day Har­bor Ath­let­ic Asso­ci­a­tion have joined this effort as part­ners to con­duct fundrais­ing and serve on the Island Rec. Levy Com­mit­tee. "It's up to us as a com­mu­ni­ty to devel­op a sus­tain­able fund­ing source for this pro­gram," said Elisa Howard, Pres­i­dent of Pur­ple and Gold. "Fri­day Har­bor Ath­let­ic Asso­ci­a­tion is com­mit­ted to this part­ner­ship. We must insure that a sports pro­gram is avail­able for our kids," said Don Galt, Jr., Pres­i­dent of FHAA.
You can support the San Juan Update by doing business with our loyal advertisers, and by making a one-time contribution or a recurring donation.