Getting sports back in the schools….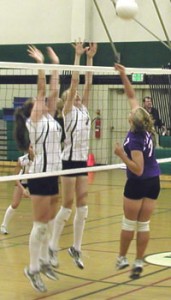 Just received this note from schools superintendent Michael Soltman….as you know, the school board cut the funding for school-funded sports last week. Now, the schools are looking for another entity to work with on this, so they're getting a campaign ready to reach their goals, with Island Rec. Here's more:
Island Rec and SJISD Announce Partnership to Fund Athletic Programs: San Juan Island Park and Recreation District ("Island Rec") and the San Juan Island School District have announced a partnership to develop a funding strategy to continue an interscholastic athletic program for Island students.  At a School Board meeting last week, the board took action to reduce nearly $800,000 from its $9 million operating budget.  Program reductions included significant cuts in administration and non-instructional services, reduction of 3 teaching positions, and the elimination of funding for the athletic program.  At the meeting, Superintendent Soltman said, "We remain committed to providing interscholastic athletic programs to our Island students, but we must find a way to fund this program outside of the District's general fund."
"Island Rec is the community's Park and Recreation District and a natural partner to approach to obtain resources to sustain this essential program for our youth.  Over 289 students participate on 14 athletic teams, annually, including students from the public school, private schools, and home schools throughout the community," Soltman said.  Ralph Hahn, Chair of the Island Rec Board of Directors said, "Island Rec's Board is in full agreement of doing what we can to sustain the sports program for our kids.  It is just not an option for our community to eliminate its interscholastic sports program."
Details of the funding strategy will be discussed at a public meeting scheduled for Wednesday, March 18th, 7:00 p.m. at the Middle School Commons.  "Now is the time for all people concerned about sustaining this sports program to join us at this meeting," said Sally Thomsen, Island Rec Director. The funding solution must include a plan to renew the Island Rec Park District levy in November with sufficient capacity to support the annual cost of the athletic program.
Assuming a successful levy in November, first tax receipts would be received in April 2010, providing enough revenue to fund the winter and spring sports seasons. However, in order to fund the fall 2009 season, $45,000 must be raised this spring.  Purple and Gold and Friday Harbor Athletic Association have joined this effort as partners to conduct fundraising and serve on the Island Rec. Levy Committee.  "It's up to us as a community to develop a sustainable funding source for this program," said Elisa Howard, President of Purple and Gold. "Friday Harbor Athletic Association is committed to this partnership.  We must insure that a sports program is available for our kids," said Don Galt, Jr., President of FHAA.