Community Thanksgiving Dinner
Posted November 14, 2012 at 7:52 am by Tim Dustrude
Help is need­ed for this big event. Min­nie Knych sends in this request:
"Please help me get the word out. We need more peo­ple to roast turkey and make pies for the Com­mu­ni­ty Thanks­giv­ing Din­ner. There are oth­er vol­un­teer spots open too.

We pro­vide a pre-sea­soned turkey in a foil pan — all the vol­un­teer has to do is pick up the turkey at the Grange on Wednes­day after 3 PM and bring it into the Grange on Thanks­giv­ing Day hot from the oven."

Min­nie Knych

Fri­day Har­bor, WA 98250

360 378‑4662 (Office) 360 378‑7040 (Home)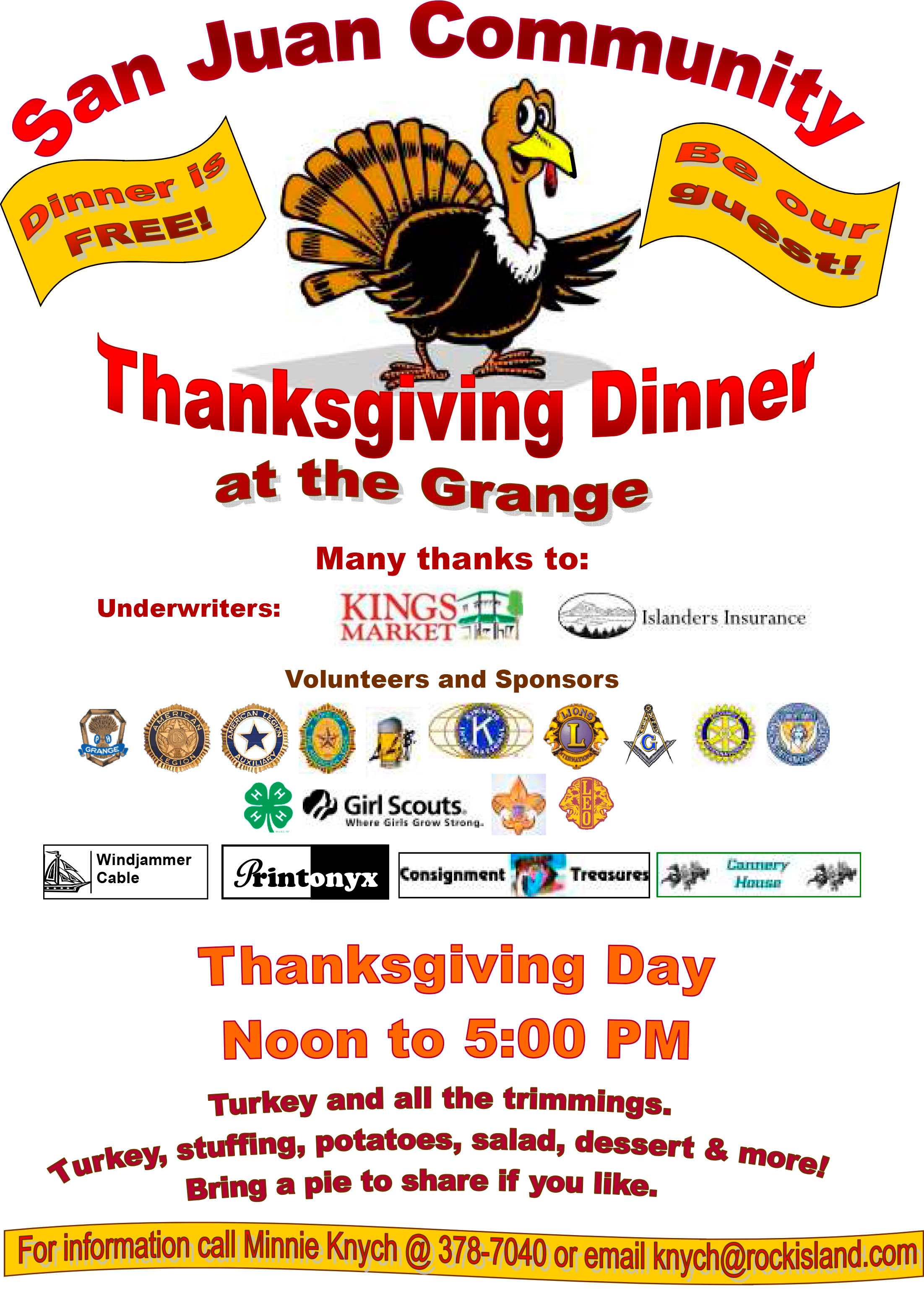 What are you doing on Thanks­giv­ing Day this year?
If you're look­ing for a spe­cial way to cel­e­brate and give thanks, come to the Grange for a good old-fash­ioned com­mu­ni­ty Thanks­giv­ing din­ner. Bring a pie, sign up to help in the kitchen, or just join us for a won­der­ful dinner.
"This is the four­teenth year for the Com­mu­ni­ty Thanks­giv­ing cel­e­bra­tion and we nev­er know who or how many will show up", says Min­nie Knych, "but that just makes the day more inter­est­ing. Come and dine any­time between noon and 5PM. Last year we served din­ner to close to 400 peo­ple so we have added an hour. Many din­ers also pitch in and help. Some­times there are a dozen peo­ple in the kitchen peel­ing pota­toes, wash­ing pots, stir­ring gravy or slic­ing turkey. There's always anoth­er chore that needs to be done so there's plen­ty for every­one who enjoys that part of the day, too. It's always good fun and reminds me of my big fam­i­ly child­hood hol­i­days when uncles, aunts and cousins gath­ered in one home for this spe­cial day."
Come alone or bring friends and fam­i­ly. This is a day to share and give thanks togeth­er. Every­one is wel­come. It's all free. The food is great. There's a fire in the fire place. Most impor­tant of all, there is plen­ty of turkey, dress­ing and all the fixin's and there are plen­ty of friends and neigh­bors to share a spe­cial day. For infor­ma­tion about how you can join the fun, call Min­nie Knych at 378‑7040 or email knych (at) rockisland.com.
See you at the Grange on Thanks­giv­ing Day!
You can support the San Juan Update by doing business with our loyal advertisers, and by making a one-time contribution or a recurring donation.