Community Thanksgiving Dinner
Help is needed for this big event. Minnie Knych sends in this request:
"Please help me get the word out.  We need more people to roast turkey and make pies for the Community Thanksgiving Dinner.  There are other volunteer spots open too. 

We provide a pre-seasoned turkey in a foil pan — all the volunteer has to do is pick up the turkey at the Grange on Wednesday after 3 PM and bring it into the Grange on Thanksgiving Day hot from the oven."

Minnie Knych

Friday Harbor, WA 98250

360 378-4662 (Office)  360 378-7040 (Home)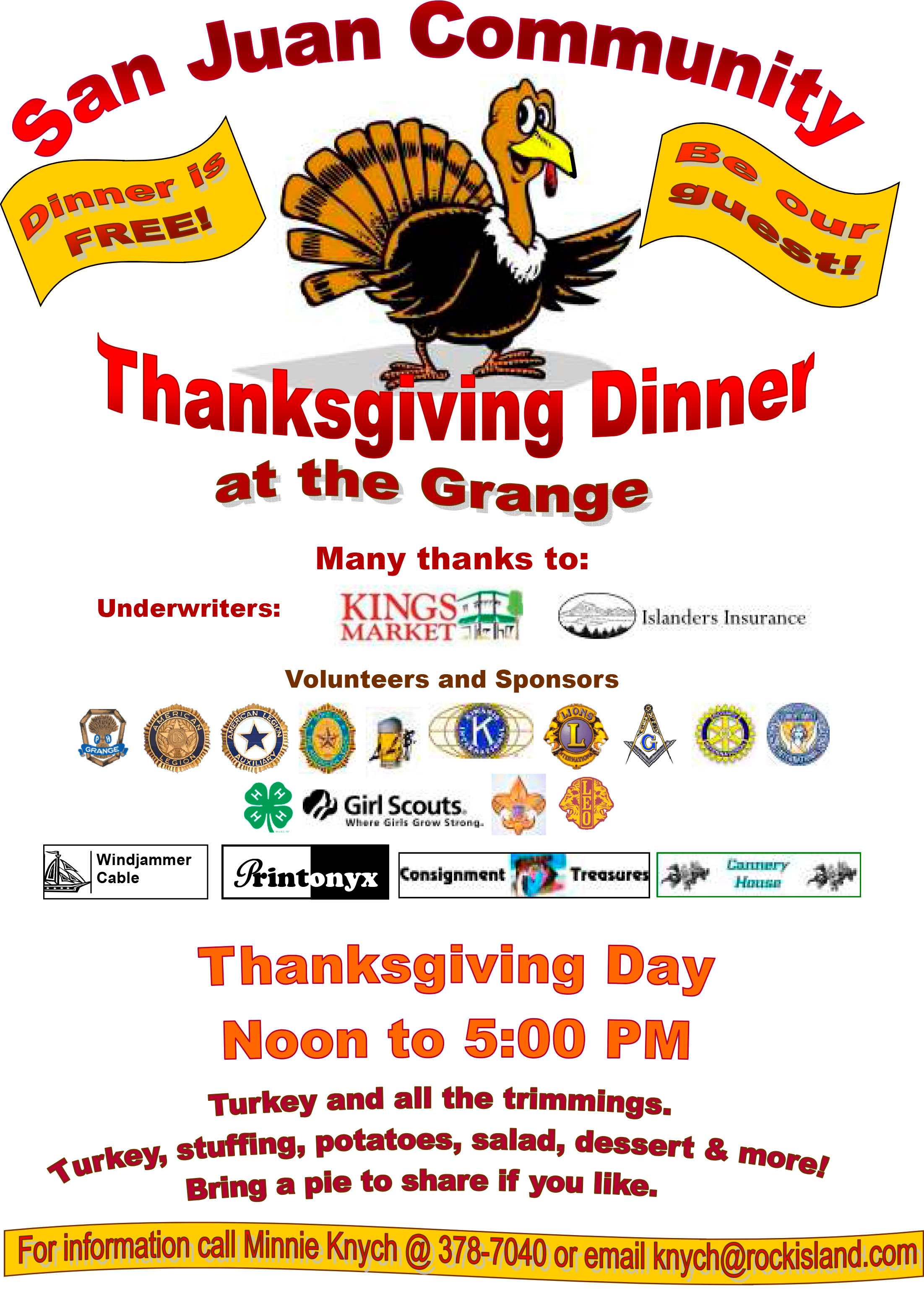 What are you doing on Thanksgiving Day this year?
If you're looking for a special way to celebrate and give thanks, come to the Grange for a good old-fashioned community Thanksgiving dinner. Bring a pie, sign up to help in the kitchen, or just join us for a wonderful dinner.
"This is the fourteenth year for the Community Thanksgiving celebration and we never know who or how many will show up", says Minnie Knych, "but that just makes the day more interesting. Come and dine anytime between noon and 5PM. Last year we served dinner to close to 400 people so we have added an hour. Many diners also pitch in and help. Sometimes there are a dozen people in the kitchen peeling potatoes, washing pots, stirring gravy or slicing turkey. There's always another chore that needs to be done so there's plenty for everyone who enjoys that part of the day, too. It's always good fun and reminds me of my big family childhood holidays when uncles, aunts and cousins gathered in one home for this special day."
Come alone or bring friends and family. This is a day to share and give thanks together. Everyone is welcome. It's all free. The food is great. There's a fire in the fire place. Most important of all, there is plenty of turkey, dressing and all the fixin's and there are plenty of friends and neighbors to share a special day. For information about how you can join the fun, call Minnie Knych at 378-7040 or email knych (at) rockisland.com.
See you at the Grange on Thanksgiving Day!