Round the County Race
Posted November 14, 2012 at 2:24 pm by Tim Dustrude
Round the Coun­ty Race 2012
By Nor­ris Palmer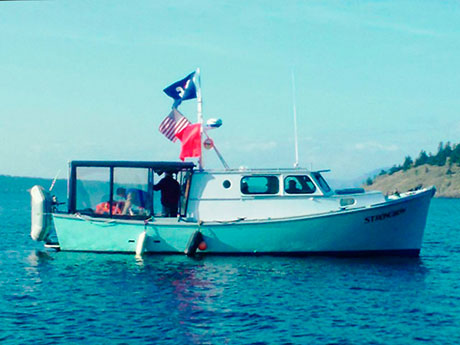 5:30 a.m. comes ear­ly and dark on the west Side of San Juan Island. But that's what you have to do to serve on Den­nis Pratt's Race Com­mit­tee, respon­si­ble for start­ing over 75 sail­ing ves­sels with rip roar­ing, hard corps rac­ing crews on Sun­day morning's start right out­side of Roche Harbor.
Karen and I board­ed our 16ft C‑Dory in the dark at Snug Har­bor Resort and pro­ceed­ed out of Mitchell Bay using "brail", "mem­o­ry", and a great GPS to get through the rocks, drift­ing bull kelp, and logs, to get to the docks at Roche Har­bor where the start­ing boat, a 32 ft. "Lob­ster Boat" named Strong Bow, was moored with all of the sup­port­ing race com­mit­tee mem­bers who were pack­ing life jack­ets, lines, jack­ets and oth­er equip­ment for the ear­ly 8:30 start.
This Sun­day morn­ing start comes after a great 34 mile race start­ed off of Orcas Island on Sat­ur­day Morn­ing which fin­ished right out­side of Mitchell Bay, also man­aged by Den­nis Pratt and his race com­mit­tee vol­un­teers of Dick Say­lor, Ed Wil­son, Rick Burbin, Karen Palmer, Howard Lewis, Nor­ris Palmer, and Lin­da Leonard.
"I think the races were great", said Den­nis, "I think every boat fin­ished the first day with only sec­onds sep­a­rat­ing fin­ish­es. Some boats raced 34 miles and only 2 sec­onds apart at the fin­ish line, which makes for a very excit­ing regatta!"
"The starts this morn­ing were flaw­less!", Den­nis added. "They made a beau­ti­ful [sight] with their spin­nakers up and head­ing for Turn Point.
The start this morn­ing will be a con­tin­u­a­tion of a "clock­wise" race around the out­er San Juan Coun­ty Islands, and will be fin­ished some­time Sun­day Night at Lydia Shoals.
There will be a Sun­day Awards Din­ner at the OIYC. The tro­phies are gor­geous We'll have RTC shirts for sale at Orcas and Roche, 25th Anniver­sary, so you'll want one!
As I write this arti­cle and the boats are still rac­ing, this weath­er bul­letin came across my desktop:
GALE WARNING IN EFFECT FOR THE NORTHERN INLAND WATERS UNTIL 6AM PST MONDAY…
* WIND AND WAVES…NORTHEAST WINDS 5 TO 15 KNOTS ARE PREDICTED TO BECOME SOUTHEAST 15 TO 25 KNOTS LATE TODAY…POSSIBLY RISING TO 25 TO 35 KNOTS TONIGHT. WIND WAVES OF 2 FEET OR LESS ARE EXPECTED TO BUILD TO 3 TO 5 FEET LATE TODAY.
Should be some inter­est­ing sail­ing going on!
You can support the San Juan Update by doing business with our loyal advertisers, and by making a one-time contribution or a recurring donation.