Round the County Race
Round the County Race 2012
By Norris Palmer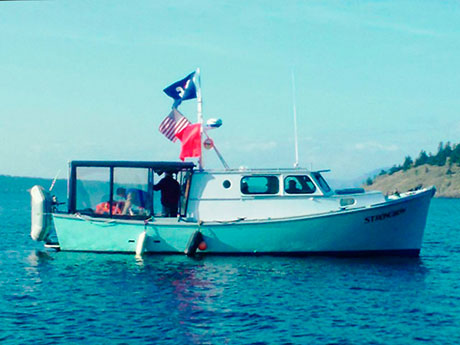 5:30 a.m. comes early and dark on the west Side of San Juan Island.  But that's what you have to do to serve on Dennis Pratt's Race Committee, responsible for starting over 75 sailing vessels with rip roaring, hard corps racing crews on Sunday morning's start right outside of Roche Harbor.
Karen and I boarded our 16ft C-Dory in the dark at Snug Harbor Resort and proceeded out of Mitchell Bay using "brail", "memory", and a great GPS to get through the rocks, drifting bull kelp, and logs, to get to the docks at Roche Harbor where the starting boat, a 32 ft. "Lobster Boat" named Strong Bow, was moored with all of the supporting race committee members who were packing life jackets, lines, jackets and other equipment for the early 8:30 start.
This Sunday morning start comes after a great 34 mile race started off of Orcas Island on Saturday Morning which finished right outside of Mitchell Bay, also managed by Dennis Pratt and his race committee volunteers of Dick Saylor, Ed Wilson, Rick Burbin, Karen Palmer, Howard Lewis, Norris Palmer, and Linda Leonard.
"I think the races were great", said Dennis, "I think every boat finished the first day with only seconds separating finishes.  Some boats raced 34 miles and only 2 seconds apart at the finish line, which makes for a very exciting regatta!"
"The starts this morning were flawless!", Dennis added.  "They made a beautiful [sight] with their spinnakers up and heading for Turn Point.
The start this morning will be a continuation of a "clockwise" race around the outer San Juan County Islands, and will be finished sometime Sunday Night at Lydia Shoals.
There will be a Sunday Awards Dinner at the OIYC.  The trophies are gorgeous We'll have RTC shirts for sale at Orcas and Roche, 25th Anniversary, so you'll want one!
As I write this article and the boats are still racing, this weather bulletin came across my desktop:
GALE WARNING IN EFFECT FOR THE NORTHERN INLAND WATERS UNTIL 6AM PST MONDAY…
* WIND AND WAVES…NORTHEAST WINDS 5 TO 15 KNOTS ARE PREDICTED TO BECOME SOUTHEAST 15 TO 25 KNOTS LATE TODAY…POSSIBLY RISING TO 25 TO 35 KNOTS TONIGHT. WIND WAVES OF 2 FEET OR LESS ARE EXPECTED TO BUILD TO 3 TO 5 FEET LATE TODAY.
Should be some interesting sailing going on!