FHFF Tickets On Sale Now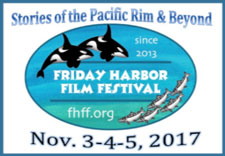 Online ticket sales are available at http://www.fhff.org/purchase-tickets/ Pre-sale of festival tickets are available at the FHFF Office, payment may be made by cash, check or credit card. Tickets are also on sale through the San Juan Community Theatre Box Office at https://tickets.sjctheatre.org/.
FHFF ticket prices are among the lowest cost admission of any regional film festival. Tickets may be purchased per film for $12.00 each; in packages of 5 films for $55.00 or 10 films for $100.00. The best value is an ALL ACCESS Wristband, which gives admission to all films and special events, including the Opening Night Filmmaker's Gala. Tickets for the Gala may also be purchased separately for $75.00.
Contact info@fhff.org, or call 360-298-1939 for more information.
More FHFF news at this link.
Entertain * Inspire * Enlighten