Green Home Tour – San Juan Island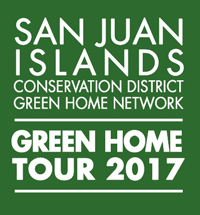 The 2017 Green Home Tour is here! Join us at the San Juan Grange in Friday Harbor for an introduction to Green Building Technology, Networking and Green Talks!
Then hop into one of our Electric Vehicles for a guided tour of some of San Juan Island's greenest homes!
Saturday, October 14, 2017 from 10:00 am to 3:00 pm at the San Juan Island Grange Hall
More info at www.greenhomesanjuans.org