Highway 20 Road Construction
Posted January 12, 2018 at 11:46 am by Tim Dustrude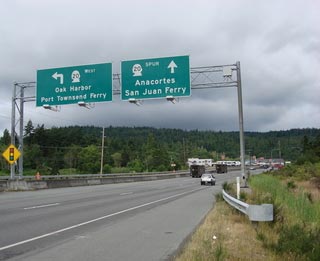 Spring high­way con­struc­tion will affect San Juan Islands and north Whid­bey Island vacationers
A large Con­nect­ing Wash­ing­ton project will cause delays on High­way 20, just east of Ana­cortes from ear­ly April into July. WSDOT con­trac­tor crews from Tapani, Inc. will build two new round­abouts in the area of SR 20 and the SR 20 Spur (the inter­sec­tion in Skag­it Coun­ty where you turn south toward Oak Harbor).
You can pre­pare for trips dur­ing con­struc­tion by:
Leav­ing your­self plen­ty of extra time to make your Ana­cortes fer­ry reser­va­tion (there are pub­lic parks, a library and/or cof­fee shops in Ana­cortes if you end up with extra time).
Avoid­ing trav­el through the area dur­ing peak peri­ods (such as Fri­day after­noons) – con­sid­er going a day or even a few hours ear­li­er to beat the rush.
If you would like more infor­ma­tion on the project , stay tuned via the @WSDOT_north Twit­ter account, the con­struc­tion web page, or attend one of WSDOT's upcom­ing pub­lic meetings:
Fri­day Har­bor Pub­lic Meeting
Tues­day, Feb. 13, 4:30–7:30 p.m.
Brickworks
150 Nichols St, Fri­day Harbor
Ana­cortes Pub­lic Meeting
Tues­day, Jan 23, 5:30–7:30 p.m.
Ana­cortes Mid­dle School
2202 M Ave, Anacortes
Whid­bey Island Pub­lic Meeting
Wednes­day, Jan. 31, 5:30–7:30 p.m.
North Whid­bey Mid­dle School
67 NE Izett St, Oak Harbor
You can support the San Juan Update by doing business with our loyal advertisers, and by making a one-time contribution or a recurring donation.