Highway 20 Road Construction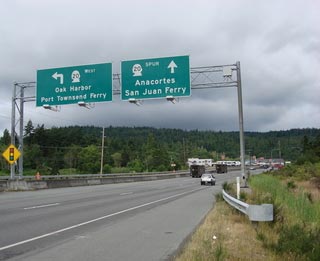 Spring highway construction will affect San Juan Islands and north Whidbey Island vacationers
A large Connecting Washington project will cause delays on Highway 20, just east of Anacortes from early April into July. WSDOT contractor crews from Tapani, Inc. will build two new roundabouts in the area of SR 20 and the SR 20 Spur (the intersection in Skagit County where you turn south toward Oak Harbor).
You can prepare for trips during construction by:
Leaving yourself plenty of extra time to make your Anacortes ferry reservation (there are public parks, a library and/or coffee shops in Anacortes if you end up with extra time).
Avoiding travel through the area during peak periods (such as Friday afternoons) – consider going a day or even a few hours earlier to beat the rush.
If you would like more information on the project , stay tuned via the @WSDOT_north Twitter account, the construction web page, or attend one of WSDOT's upcoming public meetings:
Friday Harbor Public Meeting
Tuesday, Feb. 13, 4:30-7:30 p.m.
Brickworks
150 Nichols St, Friday Harbor
Anacortes Public Meeting
Tuesday, Jan 23, 5:30-7:30 p.m.
Anacortes Middle School
2202 M Ave, Anacortes
Whidbey Island Public Meeting
Wednesday, Jan. 31, 5:30-7:30 p.m.
North Whidbey Middle School
67 NE Izett St, Oak Harbor