Home Trust Ends One Year and Begins Another with Big Land Donations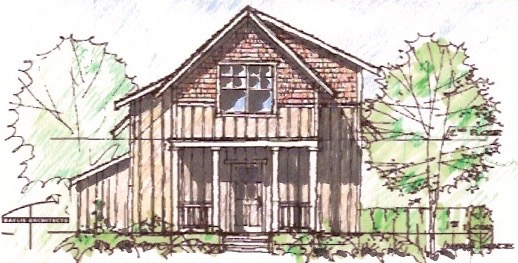 >Editor's note: The number of homes at the Soll property has been corrected to 30. The press release originally said 40 incorrectly…
Last week on December 29th, the San Juan Community Home Trust received a donation of a parcel of land in Friday Harbor. The property, at the corner of Tucker and McDonald Streets, is a gift by David and Patricia Giuliani of San Juan Island. The lot is 9,900 square feet and has no structures.
"The Home Trust is delighted at this completely unexpected gift, it's a great way to end 2017," said David S. Gow, Home Trust Executive Director. "The Giulianis are keenly interested in being part of the solution to the affordable housing crisis in the San Juans, so we are most grateful for the confidence they are putting in our home building and home ownership program," he said.
"We will repay that confidence by creating a permanently affordable family home there in the near future, which will serve as an attractive and welcoming portal to the McDonald Street-Friday Avenue neighborhood," Gow said.
The new year also kicked off with a large parcel donation to Friday Harbor's Sun Rise neighborhood of permanently affordable homes. The gift of 5.85 acres in the 1200 block of Turn Point Road was made by Larry Soll, also on December 29.
"This gift by Mr. Soll is a critical piece for the community, because it reemphasizes that area, the official Urban Growth Area, is the future for expanding the supply of permanently affordable homes locally. The Home Trust is grateful for this donation, and for Mr. Soll's leadership on the affordable housing issue, which is unmatched," Gow said.
The Turn Point Road parcel is 900 feet east of the Home Trust's Sun Rise development at 473 Grover Street East. The property eventually will be the site for more than 30 affordable units; it is already the location of the Urban Growth Area's state-of-the-art "living machine" wastewater treatment center.
Larry Soll was one of the founders of the San Juan Community Home Trust. His donation follows close on the heels of a gift by David & Patricia Giuliani of a lot at the corner of Tucker and McDonald Streets.
* * *
Founded in 2001, the San Juan Community Home Trust was created by San Juan Island activists for the purpose of creating permanently affordable housing for low- and moderate-income residents–promoting economic diversity and development, and supporting a sustainable island community while practicing responsible stewardship of the rural environment. In the years since, the Home Trust has built the Salal and Sun Rise I neighborhoods, and is currently working to complete Sun Rise II.