OPALCO News
Posted January 24, 2019 at 9:16 am by Tim Dustrude
Can­di­dates Named for OPALCO Election;
Nom­i­na­tions by Peti­tion Due Feb 13th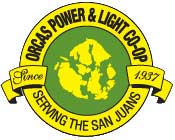 The vol­un­teer mem­ber Elec­tions & Gov­er­nance Com­mit­tee has select­ed can­di­dates for the OPALCO Board of Direc­tors elec­tion in Dis­trict 3 (Lopez, Decatur, Cen­ter and Charles islands) and Dis­trict 4 (Shaw, Bell, Canoe and Crane islands). The fol­low­ing were nom­i­nat­ed by a vote of the committee:
Dis­trict 3 (two posi­tions open): Peter Gar­lock and Bri­an Silverstein
Dis­trict 4 (one posi­tion open): Peter Hawkes and Dr. Jer­ry Whitfield
There is still time for mem­bers to declare their can­di­da­cy for the board elec­tion. Nom­i­na­tions by peti­tion are due on Feb­ru­ary 13, 2018 at 12:00 PT (noon). Co-op mem­bers from Dis­tricts 3 or 4 may sub­mit their can­di­da­cy by 1) col­lect­ing no few­er than 20 names and sig­na­tures of bonafide OPALCO mem­bers who live in their dis­trict on a peti­tion; and 2) com­plet­ing the nom­i­na­tions app at https://opalco.directnominations.net/.
Get more infor­ma­tion on OPALCO's nom­i­na­tions process online: www.opalco.com/elections. ALL OPALCO mem­bers vote in every elec­tion regard­less of your home district.
Can­di­date forums are sched­uled March 4–8th on four islands to meet the can­di­dates in per­son. Bal­lots and vot­ing mate­ri­als will be sent to mem­bers on March 11th, the day the elec­tion opens, and also will be post­ed online at www.opalco.com. Mem­bers will receive their bal­lots by email or via USPS, depend­ing on each mem­bers stat­ed pref­er­ence. Bal­lots are due online or by mail no lat­er than 10:00 am PT on April 10th. Elec­tion results will be announced on Sat­ur­day, April 13th at OPALCO's Annu­al Meet­ing on the inter­is­land ferry.
The cur­rent mem­bers of the Elec­tions & Gov­er­nance Com­mit­tee (EGC) are Bill Sev­er­son (Chair), Bar­ry Cave, Doug Mar­shall, Howard Bar­bour, Bev Ley­man, Rob Thes­man and Chom Grea­cen. There are open posi­tions on the EGC. For more infor­ma­tion on the EGC, or to apply to join the vol­un­teer com­mit­tee, go to www.opalco.com or email communications@opalco.com.
Orcas Pow­er & Light Coop­er­a­tive (OPALCO) is our mem­ber-owned coop­er­a­tive elec­tric util­i­ty, serv­ing more than 11,000 mem­bers on 20 islands in San Juan Coun­ty. OPALCO pro­vides elec­tric­i­ty that is 95% green­house-gas free and is gen­er­at­ed pre­dom­i­nant­ly by hydro­elec­tric plants. OPALCO was found­ed in 1937. Fol­low OPALCO @OrcasPower on Face­book and Twitter.
You can support the San Juan Update by doing business with our loyal advertisers, and by making a one-time contribution or a recurring donation.