Island Senior: Tea with the Dames, Inspiring Role Models of the Stage
Posted May 2, 2019 at 5:48 am by Peggy Sue McRae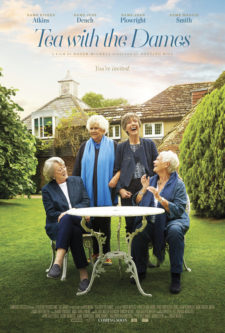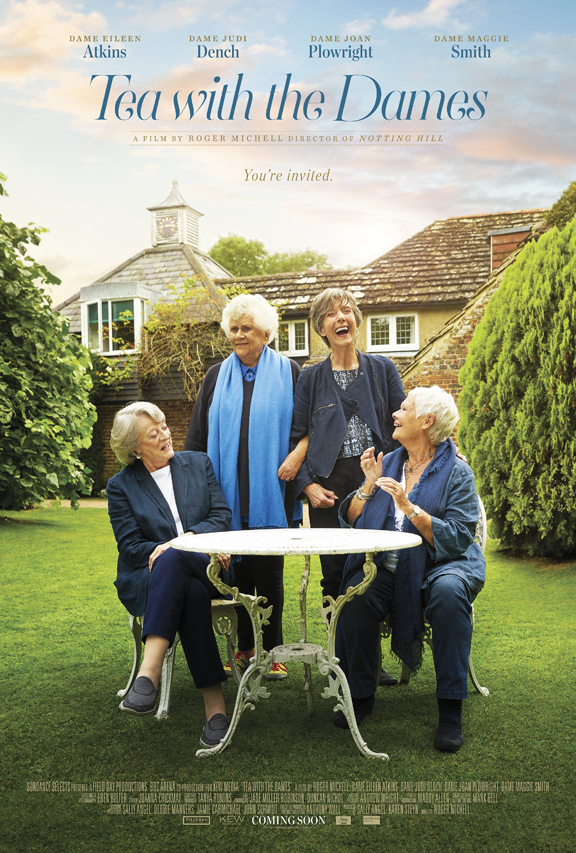 Island Senior is a reg­u­lar col­umn on the San Juan Update writ­ten by Peg­gy Sue McRae…
Seek­ing role mod­els for pos­i­tive aging led me to the British stage and four out­stand­ing actors and great friends each who have been award­ed the title of "Dame" by the British Empire for their ser­vice to drama.
Dame Mag­gie Smith, known for her roles in television's Down­ton Abbey and the Har­ry Pot­ter films won an Oscar for her role in the 1969 film The Prime of Miss Jean Brodie. Dame Judi Dench got her start play­ing Shake­speare on the stage and won an Oscar in 1999 for the film Shake­speare in Love. Dame Eileen Atkins, actor and screen­writer, won awards for the 2005 film Gos­ford Park and tele­vi­sion series Cran­ford. Final­ly, Dame Joan Plowright, at whose home they gath­ered, won act­ing awards for the 1992 film Enchant­ed April and the 2005 film Mrs. Pal­frey at the Clare­mont.
The four octo­ge­nar­i­an thes­pi­ans have been close friends since their ear­ly act­ing days, "From time to time four old friends, all extra­or­di­nary actress­es, meet up in the Eng­lish coun­try­side to gos­sip, to remem­ber and to laugh." This time they met with a cam­era crew and were filmed in con­ver­sa­tion for this insight­ful doc­u­men­tary punc­tu­at­ed with clips from their his­toric careers.
Watch­ing this doc­u­men­tary for clues to liv­ing well into our 80s I came away with these keys: 1) Retain close friend­ships, 2) Have a sense of humor, and 3) Have courage. That their close friend­ships have sus­tained them over the years seems evi­dent in their easy exchanges includ­ing both laugh­ter and a few tears.
When prompt­ed to talk about work­ing with their hus­bands they were all sud­den­ly qui­et. Mag­gie Smith broke the silence with "I was just try­ing to think which one?" and the laugh­ter returned. In spite of age relat­ed phys­i­cal loss­es, Joan Plowright is now blind and Judi Dench won­dered if they had 3 good eyes between the four of them, all wear hear­ing aids now except Dench though Smith insists that Dench should get one, they car­ry their loss­es with dig­ni­ty and humor.
As for courage, each of them con­fessed they were ter­ri­fied to play the role of Shakespeare's Cleopa­tra. Atkins and Plowright wouldn't do it. Smith played the role but only in Cana­da and Dench played the role but only after ask­ing "Do you real­ly want a menopausal dwarf to play this part?" All expe­ri­enced fears but were nev­er stopped by fear from cre­at­ing extra­or­di­nary careers. Dench referred to fear as "petrol" say­ing "If you can some­how chan­nel it, it can help." Before the film con­cludes they hap­pi­ly switch from tea to champagne.
The Mullis Senior Center's DVD library col­lec­tion is avail­able for mem­bers to check-out and show­cas­es a few offer­ings of the Dames at their best. Fran­co Zeffirelli's, Tea with Mus­soli­ni stars Judi Dench, Joan Plowright and Mag­gie Smith. The entire BBC tele­vi­sion series, Cran­ford fea­tures Judi Dench and Eileen Atkins and PBS Mas­ter­piece The­atre series Down­ton Abbey sea­sons four and five star Mag­gie Smith.
You can support the San Juan Update by doing business with our loyal advertisers, and by making a one-time contribution or a recurring donation.