SJIFR Accountability Report
Posted July 10, 2019 at 5:43 am by Tim Dustrude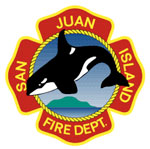 Wash­ing­ton State Audi­tor Issues San Juan Coun­ty Fire Pro­tec­tion Dis­trict #3 Account­abil­i­ty Audit Report
FRIDAY HARBOR, WA – The Wash­ing­ton State Audi­tor recent­ly released an Account­abil­i­ty Audit Report for San Juan Coun­ty Fire Pro­tec­tion Dis­trict #3 for the peri­od of Jan­u­ary 1, 2016 through Decem­ber 31, 2018.
Bob Jar­man, Chair of the Fire Dis­trict Board of Com­mis­sion­ers said, "We aggres­sive­ly pur­sued con­cerns raised in the pre­vi­ous state audit and made nec­es­sary cor­rec­tions. I am proud of the work the Dis­trict has done to ensure our tax­pay­ers mon­ey is uti­lized appro­pri­ate­ly and is thor­ough­ly and trans­par­ent­ly documented."
The Audi­tor found pre­vi­ous defi­cien­cies iden­ti­fied in an ear­li­er audit (Jan­u­ary 1, 2013 through Decem­ber 31, 2015) had been ful­ly addressed and cor­rect­ed. In addi­tion to the review and sta­tus of address­ing pre­vi­ous account­ing issues iden­ti­fied in the pre­vi­ous audit, the cur­rent audit report also focused on pro­cure­ment process, as well as the track­ing and mon­i­tor­ing of fuel use.
The Auditor's report stat­ed, "In those select­ed areas, Dis­trict oper­a­tions com­plied with applic­a­ble state laws, reg­u­la­tions, and its own poli­cies, and pro­vid­ed ade­quate con­trols over the safe­guard­ing of pub­lic resources."
Fire Chief Norvin Collins said, "Our dis­trict takes our fis­cal respon­si­bil­i­ties seri­ous­ly and we are com­mit­ted to be respon­si­ble stew­ards of our taxpayer's mon­ey. It's not only the law, but it's the right thing to do for our com­mu­ni­ty. We are grate­ful to the work done by the Audi­tor to ensure we have appro­pri­ate account­ing process­es and prac­tices. Audits are an impor­tant part of our com­mit­ment to our Island community."
The Wash­ing­ton State Auditor's Account­abil­i­ty Audit Report is avail­able for review at:
https://portal.sao.wa.gov/ReportSearch/Home/ViewReportFile?arn=1024025&isFinding=false&sp=false
# # #
The San Juan Island Fire & Res­cue was estab­lished on Octo­ber 6, 1958. The fire dis­trict cov­ers about 55 square miles, includ­ing all of San Juan Island, Brown and Pearl Islands. For more infor­ma­tion, please vis­it http://www.sjifire.org/
You can support the San Juan Update by doing business with our loyal advertisers, and by making a one-time contribution or a recurring donation.