Final Week for "The Children"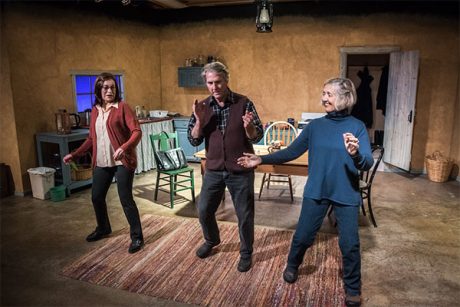 Helen from Island Stage Left writes:
Three top notch veteran actors and a dynamite, incredibly relevant script for our time. Yes, the subject is serious, but the performances have lots of humor, bravery and humanity in them. This really is a must-see show.
Come early to get a seat. I have a feeling we may be turning people away! House opens at 7:00 Thursday – Saturday and at 3:30 on Sunday. More info at https://www.islandstageleft.org/.
I hate to boast, but I have to share – the reviews are in:
"timely and thought-provoking" "superb", fantastic show", absolutely outstanding", "We are so impressed", and much more along the same lines.
Three top notch veteran actors (120+ years of professional work between them) bring this exciting play to life. The plot is tantalizingly unpredictable. All three characters are retired nuclear engineers, which might not lead you to expect the amount of laughter.
Hazel and Robin appear to be living forever on yogurt and yoga, but an old friend arrives. Her arrival causes domestic upheaval – but is that why she has come? Oh, no. It's really something else, something utterly unexpected – and deeply disturbing.