Visitors Bureau Awards $3000 in Scholarship
Posted June 19, 2020 at 8:03 am by Tim Dustrude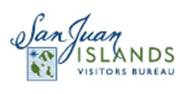 The San Juan Islands Vis­i­tors Bureau is pleased to announce the recip­i­ents of its 3rd Annu­al Tourism/Business/Communications Schol­ar­ships, award­ed to four mem­bers of the Class of 2020 who are grad­u­at­ing from island high schools.
Con­grat­u­la­tions to Tyler Sovelove (Lopez Island High School), Cam­ryn Thomp­son (Orcas Island High School), Josephine Cros­by (Fri­day Har­bor High School), and Gavin Mason (Fri­day Har­bor High School). A com­mit­tee of Vis­i­tors Bureau staff select­ed them from an impres­sive group of appli­cants from across San Juan County.
The Vis­i­tors Bureau's inten­tion in award­ing the schol­ar­ships is to rec­og­nize stu­dents for con­tribut­ing to our Islands' vis­i­tor economy—especially dur­ing summer—helping to make expe­ri­ences fun and mem­o­rable for our vis­i­tors from around the world, and who plan to pur­sue stud­ies in sus­tain­able tourism, busi­ness, com­mu­ni­ca­tions, or hospitality.
Here is how this year's grad­u­ates are tak­ing their island expe­ri­ences and using them to direct their future plans, in their own words:
TYLER: "I learned how to cook, clean, and work hard, but one of the most impor­tant things I learned was about run­ning a busi­ness in a tourism-based econ­o­my. We [Ursa Minor], like most busi­ness­es in the San Juans, rely heav­i­ly on the influx of tourists in the sum­mer, and I learned a lot about how to cre­ate an image that attracts those tourists. I don't know if I want to work in gov­ern­ment, media, or some­thing entire­ly dif­fer­ent, but I know that spread­ing a pos­i­tive mes­sage helps spread good and pos­i­tiv­i­ty around the world. I know this is a field in which I can do some good in the world."
CAMRYN: "Work­ing three dif­fer­ent jobs around the island has giv­en me the oppor­tu­ni­ty to work with the pub­lic as well as tourists. I've real­ly enjoyed help­ing them make their expe­ri­ences on the island mem­o­rable. I've real­ized that being an entre­pre­neur was some­thing that I've want­ed to do from a very young age. Own­ing my own busi­ness will use my cre­ativ­i­ty and pro­vide oth­ers with jobs in my community."
JOSEPHINE: "In life, you are nev­er cer­tain, but I want to see if busi­ness or com­mu­ni­ca­tions is some­thing I excel at! I love ani­mals, and try my very best to be with ani­mals in need or help wher­ev­er I can. [Vol­un­teer­ing at Island Haven Ani­mal Sanc­tu­ary] real­ly inspired me to one day do some­thing that is impact­ful on the earth."
GAVIN: "I have learned that you need to work hard to get through things and that a lot of the time you are going to start on the bot­tom and it will take time to work your way to the top. I hope to open some sort of busi­ness, whether in con­struc­tion or some­thing like a sports store – I want to go in either direction."
We wish these stu­dents the best of luck in their future endeav­ors, wher­ev­er the path may lead.
You can support the San Juan Update by doing business with our loyal advertisers, and by making a one-time contribution or a recurring donation.