Celebrate OPALCO's Completed Solar Array On Decatur
From OPALCO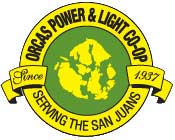 Join OPALCO at noon, Feb. 24 on Zoom for a video tour of the energy co-op's first community solar array on Decatur Island with a panel discussion and Q&A session.
OPALCO installed a one-megawatt battery storage project to couple with their first community solar array on Decatur Island.
This microgrid is the first of many planned as the co-op builds a local power supply and begins to decrease dependence on the mainland grid.
The microgrid gives OPALCO the ability to operate their electrical distribution system with more efficiencies, cost savings and load control. It's an exciting step towards a healthy and reliable energy future in the San Juans, and a key project as the Co-op prepares for the transition away from carbon/fossil fuels.
Please join us to get a look at the project, and learn why it's important and more about what the energy future looks like.
Register in advance for this webinar here. After registering, you will receive a confirmation email containing information about joining the webinar.
The Decatur project is the first of many microgrids planned that will start to give the islands a small local power supply to help us get through mainland system outages – which will become more frequent as the region shifts away from carbon, as mandated by the Clean Energy Transformation Act. This project has the potential to power about 500 homes for about four hours (based on average usage).
OPALCO plans to build community solar energy storage microgrid projects near each village center, where essential services are located and, eventually, enough battery power to support electric ferry charging as the WSF fleet is replaced with hybrid-electric ferries.
Members who subscribed to the community solar project covered 100% of that project cost and the Washington Department of Commerce provided a $1M CEF2 grant for the battery project through the Clean Energy Fund Grid Modernization program.
"Investing in electric grid resilience is essential for every community to share in the full potential of Washington's clean energy future," said Washington State Commerce Director Lisa Brown. "The OPALCO project is a very successful example of how we can use the state Clean Energy Fund to partner with smaller utilities to strengthen rural communities and help them meet their unique needs and goals."