Join Western Bluebird Training With Preservation Trust
Posted February 8, 2021 at 4:30 am by Hayley Day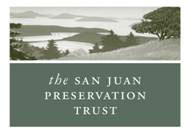 From San Juan Preser­va­tion Trust
Thank you for help­ing us car­ry the San Juan Island West­ern Blue­bird Project into the future with an online West­ern Blue­bird train­ing refresh­er on Thurs­day, Feb. 25.
As this project evolves from a Preser­va­tion Trust-led to a vol­un­teer-run pro­gram, it's crit­i­cal that we have a num­ber of solid­ly com­mit­ted com­mu­ni­ty mem­bers who are will­ing to con­tin­ue or join this project on a mul­ti-year basis.
If you are a vol­un­teer or nest box own­er who helped us out last year (or in pre­vi­ous years), we would appre­ci­ate your re-com­mit­ment. We're ask­ing that all of our vol­un­teers sit in on the refresh­er and pre­pare to resume sea­son­al duties after the lull of the wintertime.
If you know any­one who lives on San Juan Island and would be inter­est­ed in join­ing this project, please share this infor­ma­tion with them.
We are look­ing for:
Vol­un­teers who can adopt a string of nest box­es— observe for blue­bird activ­i­ty through the cru­cial breed­ing sea­son (April-ear­ly July), take on main­te­nance and clean­ing of the box­es, and report find­ings in a time­ly man­ner back to the Preser­va­tion Trust.
Landown­ers who want to mon­i­tor their own boxes.
Landown­ers who are will­ing to pro­vide open access to vol­un­teers. For con­ve­nience sake and for ease of sched­ul­ing— this will stream­line the tasks of a volunteer.
Dur­ing the online West­ern Blue­bird Training/Refresher, giv­en by Kath­leen Foley Lewis, you will find out what ter­ri­to­ries are up for adop­tion, brush up on your iden­ti­fi­ca­tion skills and mon­i­tor­ing tech­niques, learn how to share your data, and hear more about the WEBL's con­ser­va­tion sta­tus and nat­ur­al history.
Sign up for the WEBL Training/Refresher host­ed on Zoom. If you would like to join but can't make the live event, please sign up regard­less. We will be record­ing this train­ing and will share it with you if you're unable to attend this sched­uled session.
Thank you for being/becoming a pro­tec­tor of this charm­ing and emblem­at­ic mem­ber of our imper­iled oak ecosystem.
You can support the San Juan Update by doing business with our loyal advertisers, and by making a one-time contribution or a recurring donation.