OPALCO Employees On Lopez Test Positive For COVID
Posted February 12, 2021 at 5:00 am by Hayley Day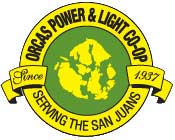 From OPALCO
Three OPALCO employ­ees have test­ed pos­i­tive for COVID-19 on Lopez and oth­ers are under quar­an­tine, fol­low­ing the San Juan Coun­ty protocol.
At this time, the employ­ees who test­ed pos­i­tive appear to have mild to no symp­toms and are rest­ing at home.
As their quar­an­tine peri­ods are up over the next week or so, we expect a full return to work.
OPALCO is oper­at­ing under strict COVID-19 pre­cau­tions with masks required when­ev­er an employ­ee is not at their dis­tanced work­sta­tion or, in field con­di­tions, when­ev­er with­in ten feet of anoth­er per­son. OPALCO's response to the pos­i­tive cas­es includes con­tin­ued dai­ly con­tact track­ing, increased inter­nal com­mu­ni­ca­tion and an inter­im staffing plan to cov­er out­ages and emer­gen­cies on Lopez.
OPALCO's top pri­or­i­ty is safe­ty. The co-op has a pan­dem­ic plan in place to main­tain reli­able and safe elec­tric ser­vice while pro­tect­ing employ­ees and mem­bers from expo­sure to illness.
The source of the cas­es on Lopez is not clear, but the response is: all employ­ees who may have been exposed are safe­ly quar­an­ti­ning and all employ­ees have been remind­ed to take every pre­cau­tion against expo­sure. OPALCO is coop­er­at­ing close­ly with the Coun­ty Health Depart­ment to man­age this out­break and lim­it the spread.
While the pan­dem­ic plan pro­vides direc­tion for safe­ty in field­work, there are unavoid­able cir­cum­stances when employ­ees must work in close prox­im­i­ty to each oth­er. For exam­ple, masks can­not be worn dur­ing buck­et-truck work per indus­try safe­ty require­ments and, in an emer­gency, more than one employ­ee may have to trav­el in a truck or boat to restore pow­er. OPALCO asks that all con­trac­tors work­ing on Co-op projects wear masks and fol­low COVID-19 safe­ty pre­cau­tions, as well.
Although OPALCO offices remain closed, all Co-op ser­vices and response times are oper­at­ing as nor­mal. Once the Gov­er­nor allows for all busi­ness­es to re-open with nor­mal capac­i­ty and there have been no cas­es in the Coun­ty for more than 60 days, OPALCO will re-eval­u­ate when to open the offices to in-per­son traffic.
Res­i­den­tial and busi­ness mem­bers who are strug­gling to pay their pow­er bills because of COVID-19 may qual­i­fy for OPALCO's COVID-19 Relief Mea­sures www.opalco.com/covid-19-relief-measures and also Project PAL dur­ing the heat­ing sea­son. Many thanks to all of the mem­bers who are mak­ing dona­tions to Project PAL this year to help meet the need.
OPALCO encour­ages mem­bers who are falling behind on their bills to call 360–376-3500 to set up a pay­ment plan. Once the Gov­er­nor lifts the order against dis­con­nec­tion for non-pay­ment, OPALCO will work with mem­bers who are in arrears and all bal­ances must be paid. Get start­ed today with a pay­ment plan that works for you!
You can support the San Juan Update by doing business with our loyal advertisers, and by making a one-time contribution or a recurring donation.