Utility Construction Continues On New Friday Harbor Roundabout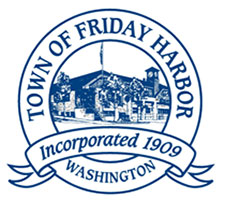 From the Town of Friday Harbor
The town is continuing construction on a Mullis Street roundabout, and sewer and storm mains under Spring Street between First and Second Streets will be replaced around April 5.
This will be the final phase to complete utility replacement on Spring Street from the waterfront to the roundabout.
The Town of Friday Harbor will add a roundabout to part of Mullis Street through May.
The project will reconstruct approximately 1,300 linear feet of Mullis Street from 818 Mullis Street, the Guard Electric and Airport property, to Spring Street.
This project includes a cement-treated base, paving, ADA-compliant ramps and sidewalk, curb and gutter, and a painted roundabout at Spring Street.
Utility work is expected to be completed within 60 days provided that there are no significant delays due to weather or unforeseen conditions. The final pavement lift is scheduled to be completed by May 19 and striping and marking to be completed by May 26.
Construction is currently planned to occur between 9:15 p.m. and 5:15 a.m.
The area will be cleaned and passable daily with reasonable parking reestablished so that business is disrupted as little as possible. Expect noise associated with the operation of heavy equipment during the evening hours. Upon completion of the line replacements, the town will repave Spring Street from gutter to gutter.
A project manager will be on-site at all times to address any issues or concerns. You can also contact town hall at 360-378-2810 or public works at 360-378-2154 with any questions.