Town and Utility Customers Donate $3,292 to Food Bank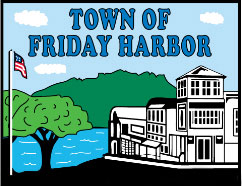 The Town of Friday Harbor thanks the community for supporting the local food bank with their generous contributions to the Harbor Life Ring program this November. Town utility customer donations of $1,646 were matched with a $1,646 grant from the Town for a total donation of $3,292 to the Friday Harbor Food Bank.
This is the ninth year that supporters of the Harbor Life Ring program have helped the food bank provide for island families during the holiday season when the need threatens to outweigh the supply.
"We are so very thankful for the continued support of our community, especially during the ongoing COVID-19 crisis," said Mayor Ghatan.
The Harbor Life Ring program was established in 2013 to assist families in need of financial relief on their Town utility bills. The program is funded through donations that Town customers add to their monthly bill payments.