Town and Utility Customers Donate $3,292 to Food Bank
Posted December 3, 2021 at 4:03 am by Tim Dustrude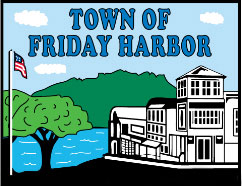 The Town of Fri­day Har­bor thanks the com­mu­ni­ty for sup­port­ing the local food bank with their gen­er­ous con­tri­bu­tions to the Har­bor Life Ring pro­gram this Novem­ber. Town util­i­ty cus­tomer dona­tions of $1,646 were matched with a $1,646 grant from the Town for a total dona­tion of $3,292 to the Fri­day Har­bor Food Bank.
This is the ninth year that sup­port­ers of the Har­bor Life Ring pro­gram have helped the food bank pro­vide for island fam­i­lies dur­ing the hol­i­day sea­son when the need threat­ens to out­weigh the supply.
"We are so very thank­ful for the con­tin­ued sup­port of our com­mu­ni­ty, espe­cial­ly dur­ing the ongo­ing COVID-19 cri­sis," said May­or Ghatan.
The Har­bor Life Ring pro­gram was estab­lished in 2013 to assist fam­i­lies in need of finan­cial relief on their Town util­i­ty bills. The pro­gram is fund­ed through dona­tions that Town cus­tomers add to their month­ly bill payments.
You can support the San Juan Update by doing business with our loyal advertisers, and by making a one-time contribution or a recurring donation.