Canoe Island French Camp undertakes major infrastructure updates with the help of Islanders
Posted April 20, 2022 at 8:23 am by San Juan Update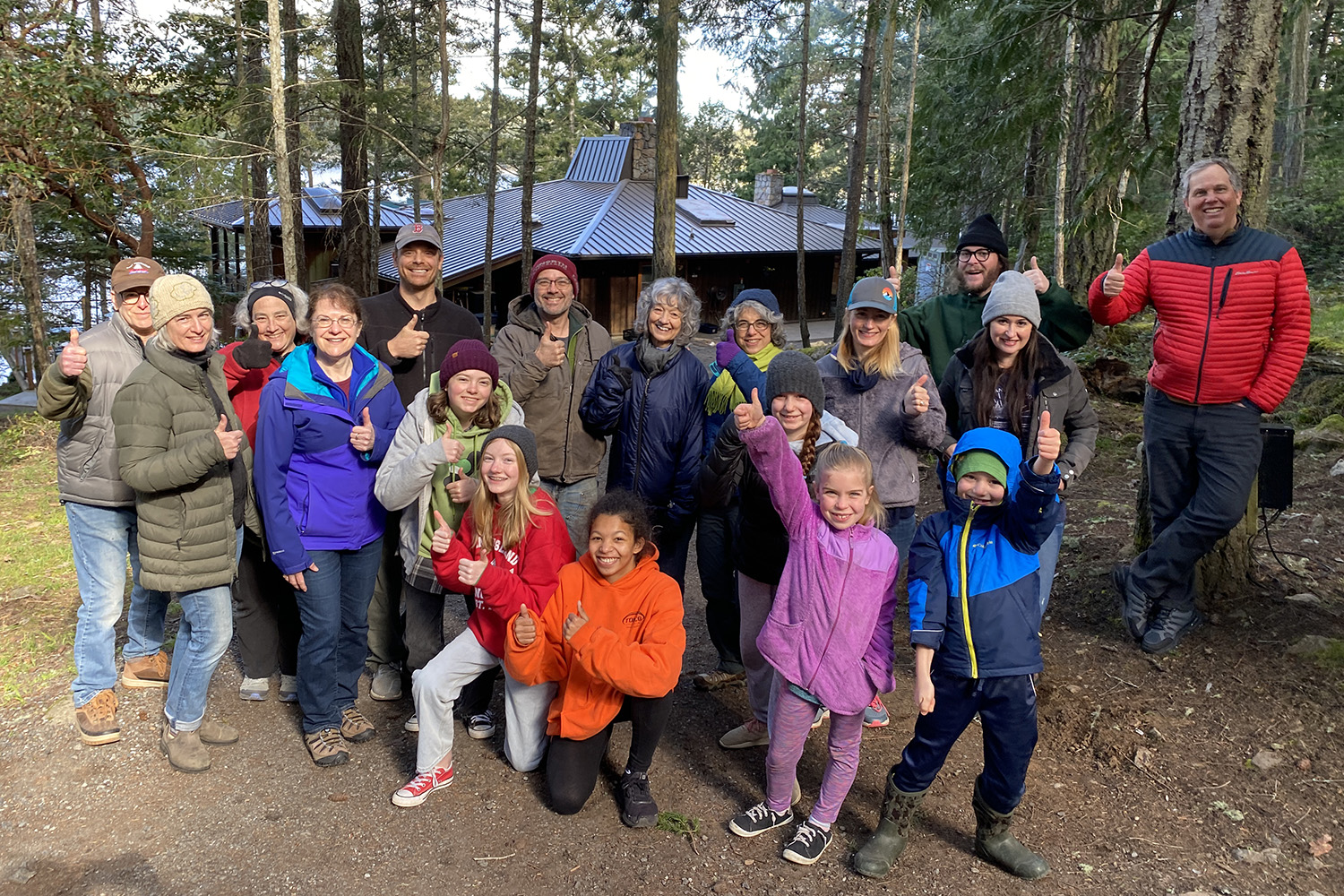 Canoe Island French Camp sends along an update about the series of improve­ments being made to their facil­i­ties. The orga­ni­za­tion was found­ed in 1969.
Canoe Island French Camp, a small non­prof­it locat­ed between Shaw and Lopez Islands, is cur­rent­ly under­tak­ing sev­er­al large facil­i­ty upgrades and addi­tions. From spring until fall, the orga­ni­za­tion wel­comes schools and adults to the island for pro­gram­ming, and hosts its sig­na­ture overnight youth sum­mer camps. In the win­ter months, staff tack­le large-scale projects. Although this mul­ti-year, ambi­tious phase of devel­op­ment has proven chal­leng­ing for sev­er­al rea­sons, the large cap­i­tal improve­ments have also pro­vid­ed an occa­sion to part­ner with the larg­er San Juan Islands community.
Sev­er­al of the camp's recent projects have been imple­ment­ed with the sup­port of local com­mu­ni­ties and col­lab­o­ra­tion with Islanders. The Shaw com­mu­ni­ty, for exam­ple, has worked close­ly with CIFC on the task of replac­ing Canoe Island's sub­sea pow­er cable. The orig­i­nal cable was installed in 1967 between Shaw and Canoe Islands, and the orga­ni­za­tion has been fundrais­ing for this project for the past two years. Anoth­er project that has fos­tered a part­ner­ship between CIFC and the local com­mu­ni­ty is the con­struc­tion of a green­house. This addi­tion was com­plet­ed in 2020 and received fund­ing from indi­vid­ual Islanders as well as the San Juan Com­mu­ni­ty Foundation.
CIFC's lat­est projects involve replac­ing aging infra­struc­ture. The camp is cur­rent­ly fundrais­ing for a new boat that will replace its fifty-year-old ves­sel, the Fer­ry Queen. The new boat is expect­ed to cost over $300,000, and will have an alu­minum hull, as well as twin out­board engines. Anoth­er major mile­stone to be com­plet­ed this win­ter is a deck replace­ment. Con­struct­ed around a build­ing called Le Château Beau­re­gard, the deck is thir­ty years old and made from old or sec­ond growth cedar. Its replace­ment will be built from cedar felled and milled on Canoe Island. Fur­ther, the new design is a near-repli­ca of the old struc­ture; these choic­es pre­serve the beau­ti­ful archi­tec­ture of a his­tor­i­cal­ly impor­tant building.
The final project on Canoe Island was the replace­ment of the roofs of two main lodge build­ings. To com­plete this improve­ment, CIFC is pleased to have part­nered with Fly Guys Con­struc­tion. Own­er Austin Reese donat­ed $10,000 of their prof­its to ben­e­fit our orga­ni­za­tion. The project involved replac­ing near­ly thir­ty-year-old cedar shake with met­al roof­ing mate­r­i­al. This mate­r­i­al is more fire-resis­tant and eco­log­i­cal­ly sus­tain­able, and has a much longer lifes­pan. The roofs were just com­plet­ed in time for stu­dents and guests to arrive on the island for programming.
CIFC has for­tu­nate­ly been able to over­come sev­er­al chal­lenges in pur­su­ing these major upgrades and addi­tions. For con­struc­tion projects, the remote­ness of Canoe Island makes it dif­fi­cult to hire con­trac­tors, their trans­porta­tion to and from the island adding a lay­er of com­plex­i­ty. And with the recent con­struc­tion boom in the San Juans, con­trac­tors have extreme­ly lim­it­ed avail­abil­i­ty. To cope with these com­pli­ca­tions, CIFC pri­mar­i­ly relies on in-house labor. Exec­u­tive Direc­tor Ben Straub, and Island Care­tak­er Dusty Cald­well, per­form all main­te­nance and facil­i­ties upkeep, and com­plete the major­i­ty of con­struc­tion projects. In addi­tion to replac­ing the deck, the two of them will assist with the roof replacements.
CIFC has also per­se­vered through the pan­dem­ic to com­plete each of these recent facil­i­ty improve­ments. The pan­dem­ic brought new­found finan­cial and prac­ti­cal chal­lenges to the orga­ni­za­tion, and com­mu­ni­ty sup­port has proven instru­men­tal in over­com­ing them. Local Islanders have par­tic­i­pat­ed in pro­grams, donat­ed to the camp, and part­nered with CIFC on mul­ti­ple projects, all of which have allowed the non­prof­it to sus­tain momen­tum through­out their peri­od of con­struc­tion and facil­i­ties renewal.
You can support the San Juan Update by doing business with our loyal advertisers, and by making a one-time contribution or a recurring donation.