Native wildflower sale opens Sept. 13
Posted September 7, 2022 at 1:00 pm by San Juan Update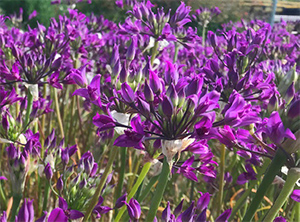 Sal­ish Seeds sends along news about their upcom­ing fall wild­flower sale.
Native plant lovers take note — the Sal­ish Seeds Project's annu­al fall wild­flower sale is almost here. Reserve plants online Sept. 13–19, then pick them up on Sat­ur­day, Oct. 1. All plants are pro­duced local­ly by the Sal­ish Seeds Project, a joint pro­gram of the San Juan Coun­ty Con­ser­va­tion Land Bank and the San Juan Preser­va­tion Trust. The sale opens online at 9 a.m. on Tues­day, Sept. 13 on the Land Bank's web­site.
Quan­ti­ties are lim­it­ed. Ear­ly shop­ping is rec­om­mend­ed to avoid disappointment.
Native wild­flow­ers are beau­ti­ful, attract pol­li­na­tors and oth­er wildlife, and are per­fect­ly adapt­ed to our island habi­tats. The 2022 fall sale fea­tures over 20 species of plants in four-inch pots, includ­ing past favorites Cana­da gold­en­rod, red-flow­er­ing cur­rant, and seashore lupine. Seed pack­ets and native onion bulbs will also be avail­able. An advance guide to the sale, fea­tur­ing descrip­tions and pho­tos of the plants, is avail­able now on the Sal­ish Seeds Project web­page.
The price per plant off­sets the cost of pro­duc­tion, allow­ing the Land Bank to pro­vide this com­mu­ni­ty service.
The Sal­ish Seeds Project enables restora­tion of native wild­flow­ers and grass­es in the San Juan Islands. Plants and seeds of species native to coastal grass­lands, oak savan­nas, and rocky mead­ows are pro­duced at a nurs­ery locat­ed at Red Mill Farm on San Juan Island. In a fruit­ful part­ner­ship, the San Juan Preser­va­tion Trust owns the prop­er­ty and the Land Bank runs the nurs­ery. Grants and pri­vate dona­tions have fund­ed near­ly all the nurs­ery infrastructure.
You can support the San Juan Update by doing business with our loyal advertisers, and by making a one-time contribution or a recurring donation.