Turkey trot returns on Thursday
Posted November 21, 2022 at 9:59 pm by Jeff Arnim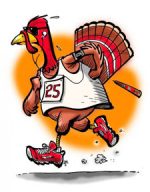 For the 16th year, the 5K Thanks­giv­ing turkey trot takes place in Fri­day Har­bor. Reg­is­tra­tion opens at 8 a.m. out­side Fri­day Har­bor Suites at 680 Spring St. and the event starts at 9 a.m., rain or shine. The event has been espe­cial­ly pop­u­lar in recent years, so make sure to arrive early.
For par­tic­i­pants age 16 and old­er the entry fee is $5 and two cans of unex­pired food for peo­ple or ani­mals. If you're under 16 it's two cans of food and $2.
A por­tion of the pro­ceeds ben­e­fit the Fri­day Har­bor Food Bank and the Ani­mal Pro­tec­tion Soci­ety of Fri­day Harbor.
You can support the San Juan Update by doing business with our loyal advertisers, and by making a one-time contribution or a recurring donation.