The book about Friday Harbor continues to sell well….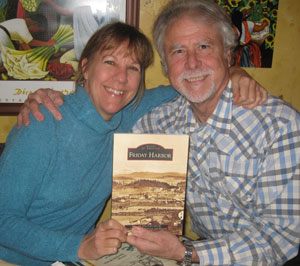 That book about Friday Harbor that Mike & Julia Vouri (right) wrote with the Historical Museum continues to sell well…Museum Director Kevin Loftus says you can still pick up your copy at the Museum, so drop by & get it.
The book starts with a picture of Friday Harbor from the harbor in 1883, and tells the story of the town's growth through the first half of the last century. It's a good read, to find out where today's town came from, and how our forebears envisioned things. I sat down and read my copy in a couple of hours one Sunday, and the choice of old photos & compelling, well-written narrative that goes with them is wonderful. Get yours now!
Mike tells me Richard Walker is doing a similar book for Roche Harbor's history, so I called Richard, who says it's been a blast to complile the pictures & stories of the community there, over the years. He says the book should be available in late June – I know I'm looking forward to checking it out.