The book about Friday Harbor continues to sell well.…
Posted March 14, 2009 at 2:59 pm by Ian Byington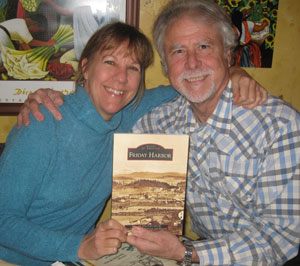 That book about Fri­day Har­bor that Mike & Julia Vouri (right) wrote with the His­tor­i­cal Muse­um con­tin­ues to sell well…Museum Direc­tor Kevin Lof­tus says you can still pick up your copy at the Muse­um, so drop by & get it.
The book starts with a pic­ture of Fri­day Har­bor from the har­bor in 1883, and tells the sto­ry of the town's growth through the first half of the last cen­tu­ry. It's a good read, to find out where today's town came from, and how our fore­bears envi­sioned things. I sat down and read my copy in a cou­ple of hours one Sun­day, and the choice of old pho­tos & com­pelling, well-writ­ten nar­ra­tive that goes with them is won­der­ful. Get yours now!
Mike tells me Richard Walk­er is doing a sim­i­lar book for Roche Har­bor's his­to­ry, so I called Richard, who says it's been a blast to com­plile the pic­tures & sto­ries of the com­mu­ni­ty there, over the years. He says the book should be avail­able in late June — I know I'm look­ing for­ward to check­ing it out.
You can support the San Juan Update by doing business with our loyal advertisers, and by making a one-time contribution or a recurring donation.