OPALCO COVID Update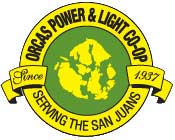 Since March, OPALCO has helped more than 450 members to pay their bills. Other members have given generously to the member assistance programs: donating solar production credits or directly to the low-income programs. Many other members have benefited by not accruing fees or being disconnected for non-payment during these difficult times.
OPALCO is closely monitoring member requests for assistance and payment arrears during the pandemic. They are digging deep to put any and all available resources into helping members pay their power bills.
Heading into the fall season, OPALCO expects businesses may feel the pinch again – some more deeply – after a less than full capacity summer season. We don't know what school will look like, but Rock Island provided internet connection to more than 100 middle- and high-school households in need to facilitate online learning this spring and is poised to help again in the fall.
When OPALCO first began offering COVID-19 assistance in March, it was unclear how long the disruption would last and applied for the USDA Paycheck Protection Program (PPP) to ensure we could maintain the essential workforce. OPALCO is one of more than 200 businesses on Orcas that applied for and received a PPP loan, which is restricted to payroll, mortgage interest and related expense to prevent layoffs. Keeping the power on is always essential; during the pandemic it's super critical.
The OPALCO Board reviews a pandemic update monthly to monitor member need and the Co-op's bottom line. OPALCO will continue to allocate resources to member assistance for as long as funding is available. Check out the most recent COVID-19 financial update in the Board materials on the website. Board materials are posted in the Document Library the Monday before each monthly board meeting. The next board meeting is August 13th.
OPALCO's current COVID-19 relief measures (through August) include:
Fee and disconnect waivers for business and residential meters
Energy Assist (qualify by checking COVID-19 box) and special rate for commercial meters
Rock Island ($25 bill credit if on Energy Assist)
Switch it Up! payment deferral
Find the full chart of offerings HERE and APPLY HERE. Questions? Email us.
Please stay safe, wash your hands and wear a mask. Let us know how you are doing by sending us a message at communications@opalco.com. We're here to help.
###
Orcas Power & Light Cooperative (OPALCO) is our member-owned cooperative electric utility, serving more than 11,400 members on 20 islands in San Juan County. OPALCO provides electricity that is 97% greenhouse-gas free and is generated predominantly by hydroelectric plants. OPALCO was founded in 1937. Follow OPALCO @OrcasPower on Facebook and Twitter.