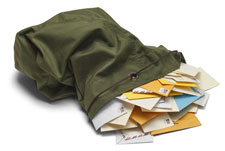 A con­tra­dic­tion? Not at all!
This is a pro­pos­al to remind vis­i­tors and those of us who per­sist in main­land ways that they are now in San Juan Coun­ty, where things are dif­fer­ent. This is why we're here, and why oth­ers come. But the main­land pace of life is hard to shake, and shake it we must — or we're sim­ply an illu­so­ry exten­sion of the mainland.
To be spe­cif­ic: the speed lim­it may be 35 or 45 miles an hour. That is a per­mis­sion, not an order! We may be famil­iar with the scenery; we see it once or twice a day. But if you've tired of the scenery that among oth­er things draws near­ly a mil­lion vis­i­tors a year, many bring­ing their vehi­cles, and many oth­ers who, being part-timers (irre­spec­tive of how they see them­selves), arrive imbued with the main­land pace of liv­ing, hav­ing used the 60 and 70 mile per hour speed lim­its to get to the Mount Ver­non turnoff, it's under­stand­able. It's hard to slow down.
They, and some of us, need help. Accord­ing­ly, my pro­pos­al is sim­ply to slow down and enjoy what we came for. Is that barn in good shape or is it col­laps­ing? What view does that house on the hill have (which at the moment, includes us)? Did the recent cold spell hurt that corn? Is that a fox among the new­born sheep? Keep your eyes on the road, dri­ver! Is that a … yes, it's a fawn, frozen in its tracks, too young to rec­og­nize the threat we present. Give it a brake. Lit­er­al­ly. What's the hur­ry? You're here, where you belong at this moment. So be here. With us, who live here and trea­sure it all.
Bill Appel
Fri­day Harbor