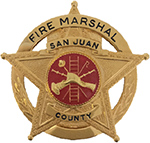 The San Juan Coun­ty Fire Mar­shal sends along an update about the sta­tus of open burns with­in the county.
Effec­tive tomor­row, Oct. 26, San Juan Coun­ty's fire dan­ger lev­el will be down­grad­ed to low. This change lifts the burn­ing restric­tion as out­lined in the burn per­mit con­di­tions. Open burn­ing is still not allowed with sus­tained winds of greater than 10 miles per hour. Res­i­dents should also avoid open burn­ing dur­ing stag­nant air sys­tems such as fog and low inver­sion layers.
Res­i­den­tial burn per­mits are valid from time of pur­chase until May 31, 2023. Res­i­den­tial per­mits are $20. Com­mer­cial burn per­mits are $300, require heavy equip­ment, water on site, and a field inspec­tion pri­or to burning.
Burn per­mits are avail­able online at the San Juan Coun­ty Per­mit Cen­ter.
No open burn­ing is allowed with­in urban growth areas, except for recre­ation­al campfires.