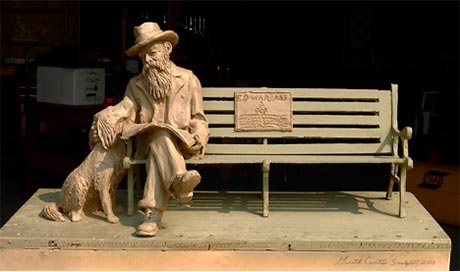 Northwest artist Gareth Curtiss has been selected by the Town of Friday Harbor to complete a life-size bronze sculpture of town founding father Captain Edward D. Warbass. The piece will include Mr. Warbass sitting on a park bench with his dog, Bob, by his side.
The artwork is scheduled for installation on the sidewalk at the First Street entrance to Sunshine Alley by summer 2019. A model or "maquette" of the piece is available for public viewing at the Town Hall administrative office.
The artist presented his maquette at the August 16, 2018, Town Council meeting where he explained his process and offered to complete a portion of the sculpting at a public venue on a return visit to Friday Harbor. Most of the sculpting will take place at his Shelton, WA, studio, with casting completed at his personal foundry in Montana.
In his 30 years as a professional sculptor, Curtis has completed close to 50 pieces that are displayed throughout the country. Samples of his work may be viewed on his website at http://www.garethcurtiss.com/. Read More »