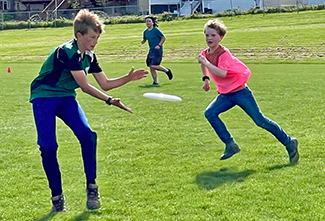 Seth Bundy shares news about the ulti­mate fris­bee scene on San Juan Island.
Right here in town, at Linde Com­mu­ni­ty Park, some­thing is hap­pen­ing. A new sport is blos­som­ing on the Island — ulti­mate fris­bee. Played in more than 40 coun­tries by hun­dreds of thou­sands of peo­ple, ulti­mate com­bines the move­ment skills of soc­cer, bas­ket­ball, and foot­ball in a non-con­tact field team sport involv­ing a fly­ing plas­tic disc.
Ulti­mate is unique among com­pet­i­tive sports in that games are gov­erned by the Spir­it of the Game, a tra­di­tion of sportsper­son­ship that places the respon­si­bil­i­ty for fair play on the play­ers rather than ref­er­ees. This requires team­work, open com­mu­ni­ca­tion, respect for oppo­nents, and coop­er­a­tion – all impor­tant social and emo­tion­al learn­ing skills.
Ulti­mate gained pop­u­lar­i­ty as a com­pet­i­tive sport at col­leges and uni­ver­si­ties in the ear­ly 1980s and has steadi­ly grown ever since. Now, kids as young as fourth grade play on school teams and par­tic­i­pate in ulti­mate camps. If you live on the island, enjoy team sports, and have nev­er tried ulti­mate, you need to check it out.
At Linde we have pick-up ulti­mate for all ages and gen­ders on Mon­day evenings, and Spring Street Inter­na­tion­al School has been play­ing on Fri­day after­noons. This sum­mer, dur­ing the week of June 27 to July 1, Seth Bundy is run­ning an ulti­mate fris­bee camp for youth aged 10–15. The camp is from 9 a.m. to 12:30 p.m. Mon­day through Fri­day. Advance reg­is­tra­tion is required. This is an oppor­tu­ni­ty to get some exer­cise, meet friends, and learn a new sport.