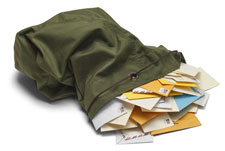 On your bal­lot right now is the years-long cam­paign to build a new Library. The issue is shroud­ed in rumors and misinformation.
Many won­der why the Library itself has not done more to respond and answer people's ques­tions. The answer is sim­ple — pub­lic agen­cies are high­ly con­strained in their abil­i­ty to cam­paign, and the Library is act­ing with­in the law. The Library has doc­u­ments and facts on its web­site but must leave it to out­side vol­un­teers to cam­paign and advocate.
A ded­i­cat­ed group of vol­un­teers has been try­ing to get the facts in front of vot­ers with an exten­sive FAQ page and let­ters to the edi­tor, as well as per­son­al let­ters to friends and neigh­bors. Our site clar­i­fies and guides you through the doc­u­ments you see on the Library's web­site.
We under­stand that the new Library rep­re­sents expen­sive pub­lic con­struc­tion. Our group believes that the right time for our com­mu­ni­ty to improve civic infra­struc­ture is now. By build­ing it now, we'll do it at a time where inter­est rates for pub­lic enti­ties are at very rea­son­able lev­els – between four and five per­cent, a far cry from some of the mis­in­for­ma­tion float­ing around.
We believe that we are doing the right thing for the com­mu­ni­ty, for this gen­er­a­tion and the next, in vot­ing yes for the Library. And we ask you, our friends and neigh­bors, to do so as well.
Louise Dus­trude
Beth Hel­stien
William Appel
Dana Ander­son
Eileen Drath
Gay Gra­ham
Susan Maz­zarel­la
Lov­el Pratt
Boyd Pratt
Liz Pil­low
Mark Mad­sen
Lara Braith­waite
Lau­rie Orton
Jean Grif­fin
Richard Grout
Alan Roochvarg
Lynn Weber/Roochvarg