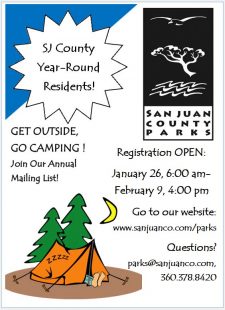 San Juan Coun­ty Parks & Fair is soon offer­ing advance camp­ing reser­va­tions for San Juan Coun­ty year-round res­i­dents, for two weeks only! Proof of res­i­den­cy is required.
Ear­ly res­i­dent reser­va­tions will be accept­ed from Jan­u­ary 26 until Feb­ru­ary 9. Email requests (pre­ferred) are accept­ed at 6:00 am on Jan­u­ary 26th via email parks@sanjuanco.com. After 1:00 pm the same day reser­va­tions can be made by phone at 360.378.8420. Hard copy requests may be placed in a drop box out­side the office. Res­i­dent reser­va­tions are not avail­able to reserve online. Final dead­line is 4:00 pm on Feb­ru­ary 9th.
Due to the pop­u­lar­i­ty of this pro­gram, dupli­cate date requests may be ran­dom­ly select­ed. Two sites max­i­mum per house­hold, per camp­ing stay, with a max­i­mum of two dif­fer­ent camp­ing stays. Choose from San Juan, Odlin or Shaw Coun­ty Parks or the San Juan Coun­ty Fair­grounds (RVs only).
For locals gath­er­ing with 9 or more peo­ple, please call today to reserve a group camp as ear­ly as Jan­u­ary 7th! Group camp­ing allows you to gath­er for all activ­i­ties and helps us man­age our Parks for the good of all campers.
To receive a 2022 Res­i­dent Reser­va­tion Camp­site Request form with instruc­tions, please join our email­ing list by send­ing your name and email address to parks@sanjuanco.com. Be pre­pared to pro­vide doc­u­men­ta­tion of year-round SJC res­i­den­cy. Addi­tion­al details avail­able at www.sanjuanco.com/parks.